Download the recipe below.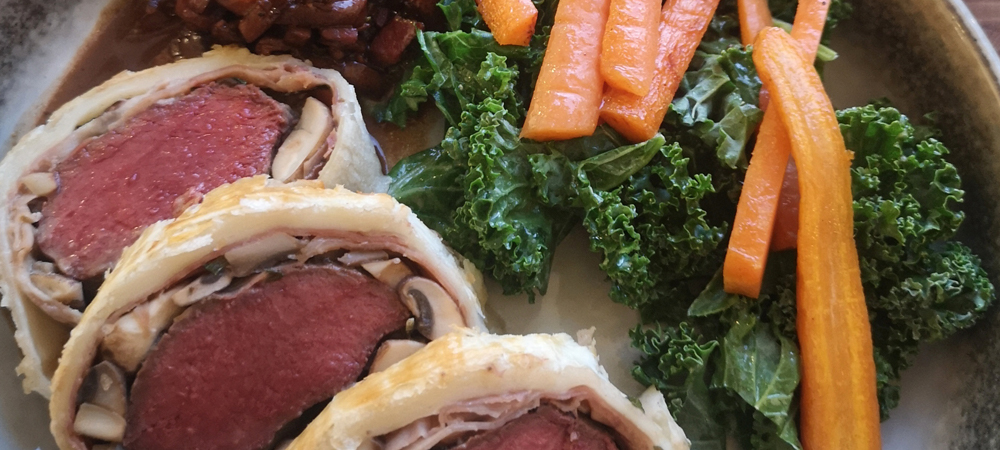 Ready in 50-60 Minutes    Serves 4
It's so delicious!

Mette Karin Petersen
The challenge with venison wellington is to ensure that the meat is cooked pink and juicy on the inside. The puff pastry on the outside should be golden brown and crisp. The trick is to carefully smooth the pastry over the filling to prevent air getting trapped between the pastry and meat.
Ingredients
For the Meat:
Venison backstrap
2 tbsp Dijon Mustard
Fresh Rosemary
8 slices of Parma Ham
500 g puff pastry
1 egg, beaten
2 tbsp Butter / Olive Oil
Salt & Pepper
Preheat your oven to 200°C (or 390°F)
Baking Time: 20-25min
Resting Time: 18-20min
Method
Trim the venison backstrap and rub in salt and pepper. On high a heat, fry the backstrap for 2 minutes on each side. Now set a side to cool off for 15 minutes.
While the meat is cooling down chop the mushrooms and rosemary. Fry the mushroom herb mix in 1 tbsp butter for 8-10 minutes until they are nice and soft. Set aside to cool.
Now, lay the Parma ham slices over a long sheet of clingfilm, overlapping them slightly. Spread a layer of the mushroom herb mix onto the ham. Next, brush the cooled backstrap generously with the Dijon mustard and place it on top of the mushrooms. Now wrap the clingfilm tightly around the meat, twist the ends and chill in the fridge for 30 minutes.
Preheat oven to 200°C (390°F). Unravel the meat from the cling film and place in the center of the rolled out pastry. Wrap the pastry tightly around the meat to prevent air getting trapped between the pastry and meat. Seal the edges and brush the pastry with the beaten egg for a nice golden color. Place the meat on a baking sheet and put in the oven.
Roast in the oven for 20-25 minutes or until golden brown. Rest for 18-20 minutes before slicing and serving. Serve with a tasty red wine bacon mushroom sauce. On the side we recommend kale and butter roasted carrots.
Happy cooking & Bon appétit.