Out in nature, hunting conditions are often harsh.
You always need a companion you can count on – in every situation. And that's exactly what you'll find at ZEISS. ZEISS premium products are high-precision tools that reliably demonstrate your impressive skills even in the toughest conditions. This applies not only in hunting scenarios, but also in the laboratory. All ZEISS optics are exhaustively tested to ensure their endurance and their suitability for everyday use.
The stringent testing procedures ensure faultless performance in the tough conditions of everyday hunting, making it possible to act and react with supreme confidence in every hunting situation.
Ruggedness and reliability, confirmed by testing.
Our testing procedures push ZEISS hunting optics to the absolute limit. To guarantee the reliability of our products in the harsh conditions of hunting, we subject them to numerous tests that simulate intense stresses and loading factors.
Shock test with a g-force up to 1,500
When you're out hunting, the optics are exposed to extreme forces whenever shots are fired with the variety of different calibres. To simulate this kind
of shooting load, the ZEISS riflescopes are tested with over 800 shocks at a g-force of up to 1,500.
1,500 g corresponds to the shooting load of the .460 Weatherby Magnum calibre.
Continuous shocks for 90 minutes
Driving along bumpy forest and country lanes with the gun on the back seat or navigating rough terrain on foot – bumps and shocks are a normal part of hunting.
Even after 90 minutes of continuous vibration in different directions, the group of the optics remains unchanged.
Waterproofing immersion test
Hours of waiting in the unrelenting pouring rain when out on a driven hunt, or necessary cleaning of the optics with a water bottle – ZEISS hunting optics are built to remain waterproof even when things get rough.
Our tests simulate continuous rain and complete immersion of the optics in water, ensuring that all ZEISS optics are fully waterproof.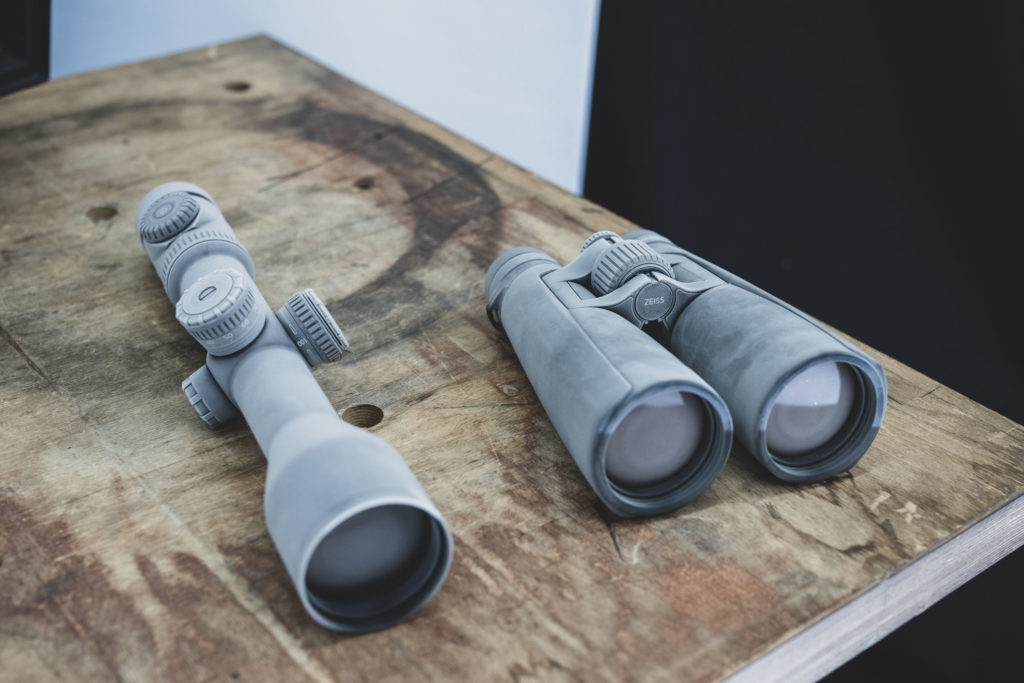 Temperature shock
From the heat of the hut to the bitter cold of the outdoors, or hours in the blazing sun – ZEISS hunting optics operate reliably in extreme climatic conditions. Exhaustive testing is undertaken in the climate chamber, where ZEISS optics are pushed to the limits of the materials. That means freezing down to -40 °C and temperature shocks from -25 °C to 50 °C within a few minutes.
24 hours in salt spray
When you go hunting, your optics are often exposed to aggressive liquids such as hand sweat and cosmetics. But thanks to a high-quality seal, these don't stand a chance against ZEISS optics, which have been demonstrated in laboratory tests: side by side with metal test strips, ZEISS optics were stored in an aggressive salt water spray for 24 hours. While the test strips were covered in rust, the optics were entirely unfazed.