For many, airguns are a gateway to shooting rimfire, centrefire and big bore rifles, but for me it just stopped at airguns and I've been shooting them for more than 40 years.
Of course, things have moved on and the clanky old muskets I used back then have been replaced with increasingly sophisticated pre-charged pneumatic rifles. However, whilst air rifle technology evolved and modern airguns are capable of staggering accuracy, one thing has stayed the same; at 12 ft. lbs. in the UK, even the most advanced unlicenced air rifle is no more powerful than those from 40 years ago.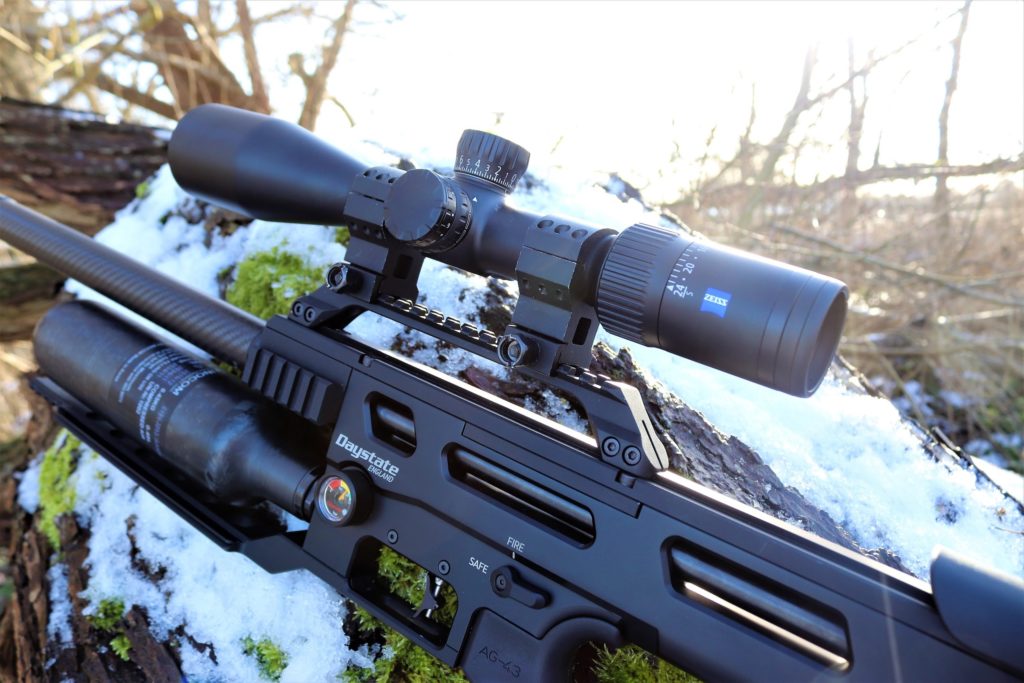 As a result, airgun hunters have had to develop fieldcraft to get within 40 metres of their quarry. Of course, not every airgunner hunts and many prefer to shoot targets and for them, the lack of power and poor ballistic coefficient properties of airgun pellets limits their range as well.
Airgun accuracy
Inevitably, as airguns have become more consistent and accurate, the challenge of shooting at such distances has diminished for some. How many times have you heard an airgunner on the range say their rifle is 'so accurate its almost boring'? Indeed, some go back to less efficient spring powered rifles simply because they are more of a challenge to shoot accurately.
Despite all the advancements in airgun technology, the reality of limited range has meant airgunners have not had to ask too much of the telescopic sights they use. Many, me included, have taken the view that enabling accuracy at 40 metres is good enough.
100 metres is the new challenge
However, human nature is such that we are never satisfied, and airgunners are looking to push the boundaries of increasingly competent rifles as well as advancements in airgun ammunition. High powered air rifles, which require a firearms certificate in the UK, are growing in popularity all over the world and many of them are designed to shoot significantly more ballistically efficient slug ammunition over long distances. Rifles of close to 100 ft. lbs. capable of firing 40 grain plus slugs at more than 1,000 feet per second are readily available. As a result, hunters have extended their effective range considerably and for target shooters, 100 metres is the new challenge.
Good enough optics?
In this new world of hyper-performance air rifles, optics traditionally used by airgunners have often been found to be lacking; what works fine at 30 metres is suddenly inadequate at 100 metres or more and many have had to consider stepping up to the next level.
Having committed to the FAC air rifle scene about a year ago, I found myself in just such a predicament; I have rifles capable of killing rabbits consistently and humanely at 70 or 80 metres and I've always thought the scopes I was using were 'good enough'.
And then I had the opportunity to review a ZEISS Conquest V4 for Alpha Militaria, in conjunction with Gunstar. Taking it from the box and twiddling the turrets and various adjustments, the quality and precision of the German engineering was immediately obvious.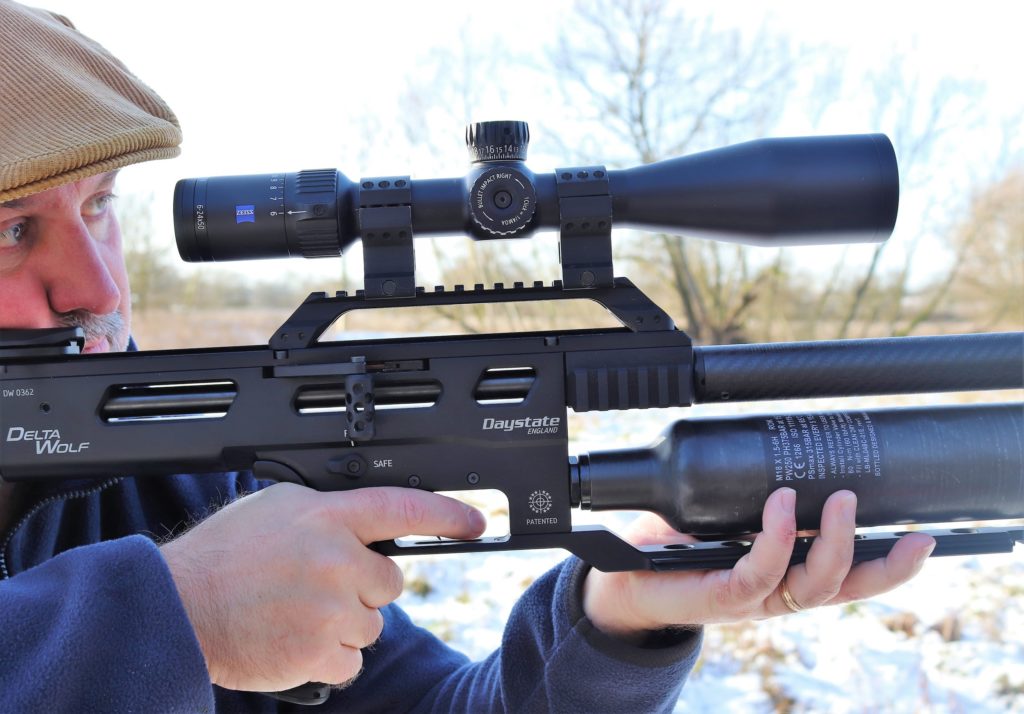 The elevation turret doesn't lock but adjusts through an 80 MOA range in ¼ MOA increments with defined clicks that are easy to turn but weighted to make unwanted adjustment unlikely. The windage turret has a 60 MOA range and, as it is less likely to be adjusted as frequently, has a pull-out to adjust / push in to lock feature.
Of particular relevance to airgunners is the fact that the V4 Conquest parallaxes down to 10 metres and out to infinity via a dial on the left hand turret that moves smoothly and easily. Next to it is another dial that illuminates the reticle through 10 different levels of brightness, each with an 'off' position in between.
Sharper field of view
As I twiddled through all these features, the cynical part of my mind was telling me that I shouldn't be surprised at how good they felt given the scopes I had always used up to now cost significantly less than the Conquest V4.
However, when I put the scope on my rifle – an FAC-rated Daystate Delta Wolf – for its inaugural hunting trip everything became clear – literally – and suddenly I understood.
Subconsciously I'd always thought that the job of a scope was to enable me to see things at distance as well as I could closer up with the naked eye. The difference I now experienced was that a scope could actually make things much further away look even sharper than they ever could with the naked eye at arms-length.
ZEISS is, of course, known around the world for the quality of its lens technology. On the Conquest V4, those lenses are treated to a six layer coating that maximises light transmission, as well as another layer that repels water and dirt.
Combined with the scope's 50mm objective lens and 30mm tube, the result is that 90 percent of available light is transmitted to the eye. So not only is the image staggeringly sharp throughout the magnification range, it also enables you to shoot in low light conditions. More than that, the colours are vivid and there is absolutely no distortion at any distance on any magnification.
In all honesty I couldn't say that using the ZEISS Conquest V4 has made me any more accurate at 80, 90 or 100 metres. No scope, no matter how good it is, can help the flabby thing looking through it. But thanks to the precision of the turrets, the parallax adjustment and the eagle vision quality of the image, I am able to place the crystal clear reticle more precisely. And when I do miss, at least I see where my errant shot went.
For a full review of the ZEISS Conquest V4, see Alpha Militaria's video or written review.