Download the recipe below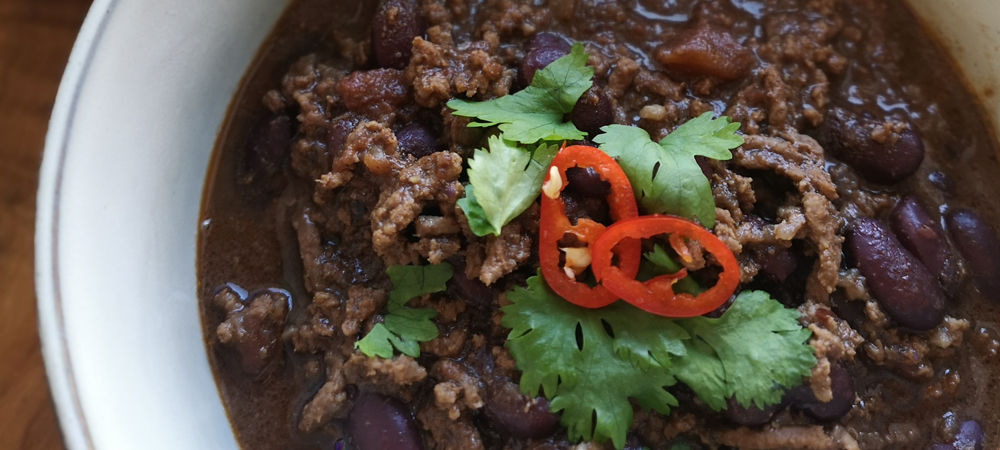 45 Minutes    Serves 4
The ultimate classic comfort food dish – with a twist!

Mette Karin Petersen
Ingredients
(Serves 4)
For the Chili:
500 g. minced muskox
2 onion, finely chopped
2 garlic, finely chopped
1 can diced tomatoes
2 can kidney beans (drained and rinsed)
50 g. dark chocolate
1 fresh red chili
1 tbsp cumin
1 tbsp chili flakes
3/4 tbsp cinnamon
3/4 coriander (dried)
3 tbsp olive oil
Salt and pepper
For the Sauce:
Fresh coriander
Sour cream
Fresh red chili
Method
Heat olive oil in a frying pan. Now add all the spices (cumin, cinnamon, coriander, garlic and chili) and fry on medium heat for 2 minutes. Then, add the finely chopped onions to the spice mix and fry until they turn translucent.
Now, add the muskox mince and cook for another 5 minutes until the meat has browned. Next, stir in the diced tomatoes and 300ml of water. Turn the heat to low, cover with a lid and let everything simmer for about 30 minutes.
Just before the cooking time is over, add the dark chocolate and cook until it is completely melted which should be after about 2 minutes.
Lastly, serve up the chili con muskox in a bowl and top with fresh coriander, thinly sliced red chili and sour cream. Serve with rice, bread or nachos.