2018 has been the breakout year for chatbots. Just two short years ago, most of the world hadn't heard of them. Now there are well over 100,000 just on Facebook Messenger alone. They're catching on quick, and already more than 20% of consumers prefer chatbots as the easiest way to contact a business, beating phone calls, emails, and websites.
"By 2020, 80% of business will have some sort of chatbot automation in place."—Business Insider, 2016
That's less than two years away!
Creating a unique, user-driven, interactive customer service experience is something most companies strive for, right? Well, that's really difficult to do 24/7, unless you employ chatbots. And ZEISS is known for being a trend-setting technology and precision company, so it was time to place our trust in technology yet again and give chatbots a try.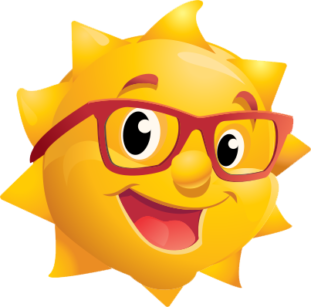 Sunny the UV Chatbot was launched within Facebook Messenger in April 2018 to support the launch of the popular ZEISS UVProtect lens technology, and bring awareness of the need to protect eyes from harmful ultraviolet (UV) light. Sunny is the first chatbot to be released in the eyeglass lens market. Its purpose is to provide information about UVProtect lenses while educating consumers about UV and its potential to harm our eyes. People can chat with Sunny the UV Chatbot anytime of the day, whenever it's convenient for them.
It was important to make sure Sunny met the needs of our customers, so it was designed to be both informative and funny with a witty personality. The first question Sunny will ask you is if you'd like your UV Index for the day. Reminding people to consider their daily UV environment and how to best protect themselves is an essential first step to increasing awareness.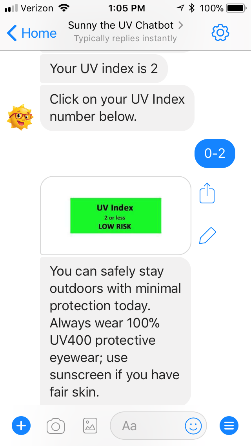 Sunny also offers a UV risk assessment so that people understand their risk, not just to their skin, but to their eyes as well.
Think you already know a lot about UV? Well, take Sunny's fun quiz and find out if you're right!
Sold on the need for ZEISS UVProtect lenses? Just ask Sunny to find a ZEISS eye care practice near you and you'll be on your way to having the best protection around.
Want to see for yourself? Open Facebook Messenger and search for Sunny the UV Chatbot by name, or click this link: bit.ly/SunnyUV.
Engaging consumers where they prefer to be served is a crucial step in reaching the ZEISS goal of building awareness about the risk of UV damage to our eyes. Sunny the UV Chatbot is a step in the right direction in effectively engaging with our customers and their patients.