Download the recipe below.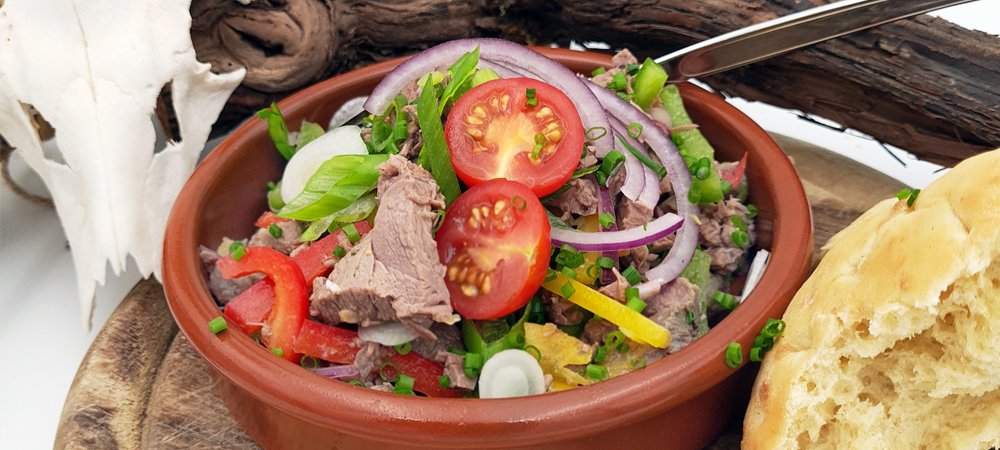 2-3 hours to cook the meat & 15 min. to dress the salad     Up to 6 Servings

NO GARDEN PARTY MORE WITHOUT THE LEGENDARY WILD SALAD

@wildrebellen
Venison in summer on the grill is no longer a secret! And a fresh salad is always part of the barbecue. Green salad, potato salad or bulgur salad are delicious and healthy choices – but somehow everyone comes to the garden party with them. Therefore, here is the solution to many problems, super tasty, different, and regional: the wild salad!
Ingredients
1 haunch of venison – from roe deer, but also another type of game or cold roast would work
1 bottle of white or rosé wine
Broth / stock
1 onion
2 bulbs of garlic
4-5 juniper berries
Fresh herbs from the garden, e.g. sage, thyme, fresh bay leaf & oregano
A pinch of good salt
Method
Firstly, bring the wine to a boil. Then add the juniper berries and garlic to the saucepan. Add a pinch of salt and the bay leaf and let simmer briefly.
Let the haunch slide into the stock and add more stock until the meat is completely covered. Add the herbs and bring to the boil again. Set the temperature to a slight simmer only and Let it cook for 2-3 hours (do not boil !!!) Then switch off the stove and let the meat cool down in the stock.
Once the meat is cooled down, remove the haunch from the stock and cut into fine strips.
Depending on your taste you can now vary the final dressing of the salad. Get creative! Here are a few ideas from us:
Classic: Dress the meat with a good, fruity vinegar and olive oil. Mix in strips of paprika (yellow, red, green), finely chopped red onion, some parsley and, depending on your taste, some chili or fresh horseradish and serve well chilled.
Asian: Fresh spring onions, rice noodles, soy bean sprouts and strips of bamboo, shitake mushrooms and ginger, dressed with soy sauce and a little rice vinegar are perfect!2
TexMex: Cumin in the stock and then served with rice, beans, corn, fresh, finely chopped tomatoes and fresh coriander, with a few fiery chili flakes for tickling your mouth!
Happy cooking & Bon appétit.