Success factors and reliability
How did you find your way to hunting and what does hunting mean to you?My father is a passionate hunter, and I went hunting with him for the first time when I was five years old. He shot an elk on my first day – and I've been addicted ever since. From that point onwards, he took me hunting with him for elk, roe deer and hares on a regular basis, but as I got older he taught me how to hunt and shoot alone. Because he has his own shoot, I've always been able to hunt as much as I want. Growing up this way has made me thankful for what animals and nature can offer us. My father taught me that nature can be a huge resource for us if we treat it well. He also taught me how to respect animals and enjoy nature. I now have my own farm with my own hunting ground and can still hunt as much as I want. I'm also a teacher at a secondary school, which allows me to spend time outdoors with my pupils, bringing them closer to nature.
What are your special hunting experiences during driven hunts?When hunting in a different way – either in a new country or a different type of game – I have to be confident that my equipment is reliable. During a driven hunt I have to stay extra sharp, as this is not a common form of hunting in Norway and I'm delighted to have the ZEISS Victory V8 1.1-8X30 by my side. This is a steady and reliable scope for hunting when time is of the essence and it gives me the certainty I need.
Often the area is in the middle of the forest surrounded by lots of trees, resulting in predominantly short-range shooting. The animals also often move fast, and so a clear scope with low magnification is important as I need to see spot the animal quickly, but I also need to be able to see the whole animal to be sure of the surroundings. The V8 also has the red dot that makes me, as a huntress, more confident. With the red dot I know exactly where the bullet will hit when I pull the trigger, and it's easier to remember the moment of the shot. The use of low magnification is also very helpful, due to it being easier to follow the animal from when the shot was taken until the animal is down.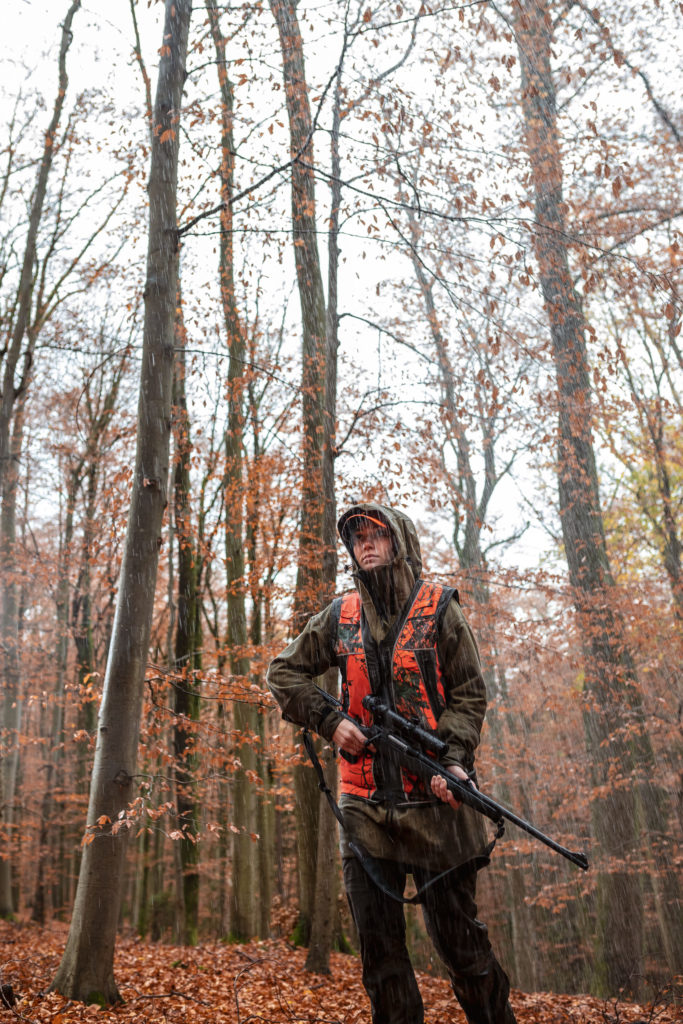 On a driven hunt I try to envisage all the different possibilities of where the animals might appear, which is almost impossible, as they are not easy to predict.

ANETTE DAHL
On my latest driven hunt in Germany, I got a fantastic high seat location. I had an old road behind me, forest on both of my sides and a small open area in front of me. In the early morning I learned from a German hunter that the first twenty minutes of the hunt are the most exciting, because at that time the animals first start to move and everything could happen. I was standing in my high seat with the rifle in my hands, ready and waiting to see if anything was going to happen in the woods… and it did.
On the right side of me two wild boars came out of the forest. I saw them before I heard them due to the heavy rain, and I had to act fast if I wanted to have the chance of a shot, so I mounted the rifle. With a well-fitted rifle and with a crystal-clear scope I could spot the first boar easily and shoot within seconds. I could easily see that the shot was perfect and that the boar had hit the ground. I was then able to move over to the next boar and repeat the success. The perfect match between the seconds of spotting the animals, the fine adjustment of the red dot and the general reliability of the equipment was just perfect. I could not have been as successful without my reliable companion, the Victory V8 1,1-8X30. I have been very lucky during my driven hunts and have been able to bring home several wild boars: for me there is no doubt that confidence in the equipment is one of the key success factors.
Equipment Used