The Perfect Companion
The most important factors when choosing your scope are your particular hunting preferences and the conditions in which you hunt. All-rounder or specialist – this crucial decision will depend not only on what scopes you already have, but also on what, where and how you will want to hunt in future.
If you will be hunting in daylight, what you need most is flexibility when it comes to magnification. The key aspects to consider are the terrain (flat country, mountains) and the type of hunting (hide, stalking).
Riflescopes with excellent optical performance are the number one choice if you will be hunting at twilight or by moonlight.
Reliable aiming, fast reactions and short distances: when on driven hunts, sights with a large field of view and low magnification allow you to aim with both eyes, thus increasing the reliability of your shot.
Various types of game and hunting, different times of day or environments: all-rounders with excellent optical clarity and a wide zoom range really come into their own here.
For high-precision shots over long distances, long-range scopes with extreme magnification and pinpoint ballistic settings are what you need.
If you are hunting in the mountains, it is important to have the flexibility to take long-distance shots, as well as to adjust your ballistic settings to suit the game. A product such as the ZEISS Victory Rangefinder System can be a great help here too.
Do you need more advice in your quest to find the perfect scope? Then visit our digital product advisor.
Finding the perfect binoculars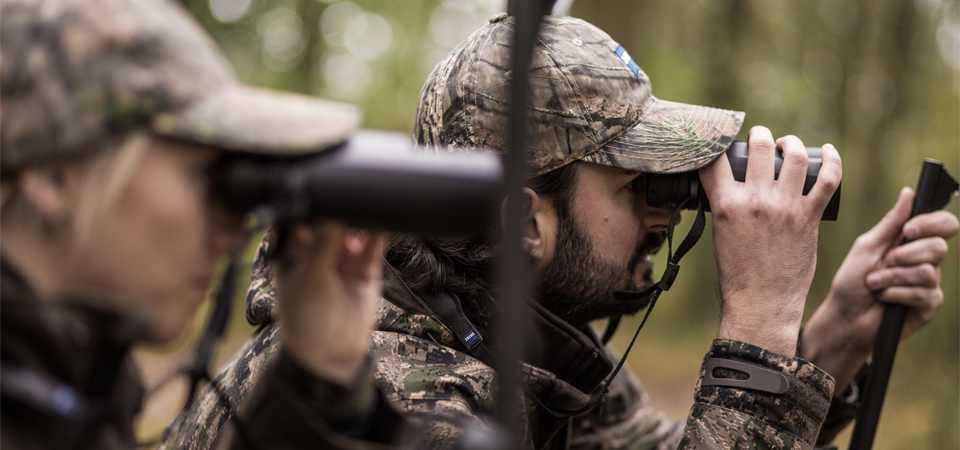 Good binoculars are like a loyal companion.
For the most part, hunting is not about the hunt itself; it is about being able to experience nature and, in particular, to view the game.
What constitutes the right binoculars will depend on the type of hunt, time of day and, last but not least, the hunter and their requirements. When hunting on the move, factors such as size, weight and ease of use are really important, on top of the optical considerations.
If you are hunting game that is on the move, you often have to act fast. Compact, lightweight binoculars that are really easy to use would be ideal here.
During the day, what hunters need most is to have a good overview through a wide field of view, along with good magnification, so they can aim at game properly.
In poor light, when hunting at night or at twilight, a good pair of binoculars with large lenses and good light transmission will allow hunters to get the most out of their hunt.
In order to measure distances accurately for an exact shot, the binoculars will need to offer enhanced technological features that are easy to use, on top of the optics themselves.
A built-in image stabilisation function will enable you to see clearly over extremely long distances – even without a tripod.
Do you need more advice in your quest to find the perfect binoculars? Then visit our digital product advisor.
Every detail at a glance – choosing the perfect spotting scope
Whether used to view game or simply see nature in a different way: spotting scopes give hunters and nature-lovers a unique perspective and enable them to take precise aim. Spotting scopes are usually needed to take accurate images over long distances, but sometimes they serve to pick up details on smaller animals that are already visible to the naked eye. So why do I need a spotting scope?
When deciding whether you need a spotting scope, as well as the performance data of the optics in question, such as maximum magnification, zoom range or field of view, it is recommended that you consider other factors too: for example, weight, dimensions, setting options, handling or ability to extend the product with corresponding accessories.
If used for aiming at game, the mobility of the spotting scope is important, as well as its optical performance: it should be lightweight, compact, robust and with no bells or whistles.
If used for viewing game, simple handling and maximum optical performance are the order of the day.
If used for identifying animals, when it is all about extreme magnification, a wide field of view and true-colour reproduction, every tiny detail counts.
Whether it will be connected to a camera or used for digiscoping – with the right spotting scope, you can record your sightings as photographs or moving images.
Do you need more advice in your quest to find the right spotting scope? Then visit our digital product advisor.