The mission of Sounding Wild
In a world immersed in technological advancement, migratory birds are able to connect us all regardless of our location or cultural background. They are quickly disappearing and so it's urgent that start listening to them: they are telling us our world is changing hurriedly.
The Sounding Wild's mission is to share the stories of migratory birds wherever we go and help people understand how important they are for us and for our planet.
The project
'Wings Across Continents' is a one-and-a-half-year intercontinental overland expedition that follows the bird migration along the East Atlantic Flyway from West Europe to West Africa, creating stories about the local migratory birds for the local communities using immersive technologies. Our mission is to use forward-thinking storytelling techniques to engage with the local audience to help them foster and deepen their connection to nature through the migratory birds that connect many different cultures. We collaborate with the Migratory Birds for People initiative by WWT, which links Sounding Wild with local NGOs and local experts, enabling the connection of a wide international network, thus creating a bridge between the urban world and local nature.
The Sounding Wild team is made of two brothers: director, producer, wildlife sound specialist and award-winning spatial audio sound designer Axel Drioli, together with filmmaker, photographer and graphic designer Ario Drioli.
We live full-time in our Toyota 4×4 vehicles, stopping every month at an important migration hotspot on the East Atlantic Flyway and spending the first three weeks collaborating with local experts to capture the best migratory bird stories. We then create the Immersive Experience that tells these specifics stories, as well as the stories of the same species in other locations of the flyway, emphasising their impressive long journey.
We have been professional filmmakers for many years, asked by our clients to travel far and wide to capture the stories of places and people only to bring them back to the UK, our country of residency, without ever showing those stories where we created them in the first place. We have decided to reverse this working dynamic by giving priority to the local communities and their connection to local wildlife.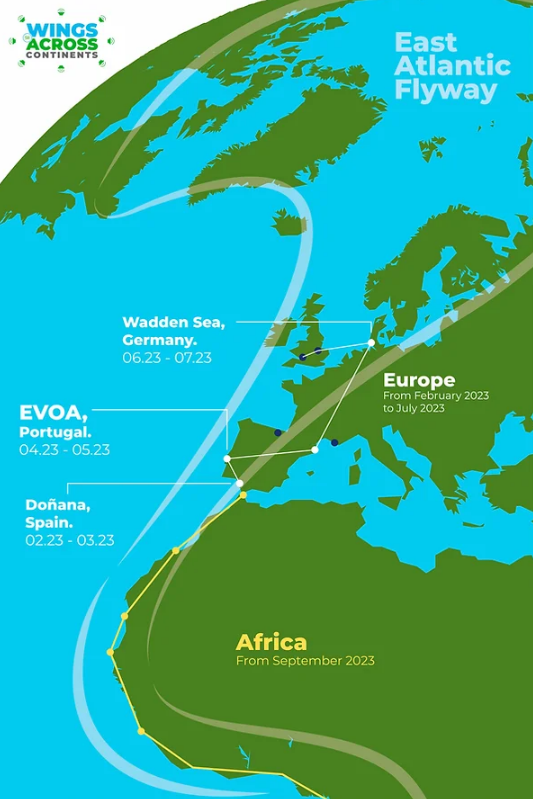 In 2022 we completed a 3-month test phase in the north of Spain and south of France, in which we developed our project and tested it in various locations. In February 2023 we started the European leg starting in  the south of Spain and moving up north to the Wadden Sea in Germany. Later on, In July 2023, we showcased the work from these trips at the Global Birdfair (Leicester, UK) and Sparks (Bristol, UK) to an overwhelming positive and enthusiastic response. The West African leg of the expedition is scheduled to start in September 2023 and last for one year, starting from Tangiers (Morocco) all the way down to Cape Town (South Africa).
We aim to leave a legacy wherever we go. We want to give back something to the birds, who are the actual performers in our stories, hence why we created our own record label Sounding Wild Records. Through it, we release sounds and music that speak about nature, donating a percentage of the income back to the nature reserve or organisation where we witness the stories. The same goes for our Interactive Prints and Posters, where every picture connects you to the sounds, description and story of the birds.
If you would like to follow our movements make sure to subscribe to our newsletter on our website www.soundingwild.com, and to follow us on social media on Instagram and Twitter @soundingwild
During this journey, we are being supported with ZEISS optics. Learn more about our adventure and stay tuned!
Background
Axel and Ario Drioli decided to dedicate their lives to share stories of the natural world with any community they meet. After many years of working for clients, being sent to places around the world to capture stories and bringing them back to their homes without telling those stories to the locals, they have decided to focus their efforts on local communities, engaging with them directly.
Axel is a London-based director, producer, award-winning spatial audio designer and wildlife sound recordist. His career spans from documentary filmmaking in Europe, Africa and South-East Asia, to developing forward-thinking immersive experiences for London's Philharmonia Orchestra and working for natural history wildlife filmmakers such as Martin Dohrn for the award-winning documentary 'My Garden of a Thousand Bees'. With his co-owned immersive production company XR HUB, he directed and produced the creation of the most advanced R&D database of VR audio and video for manufacturing companies to improve the next generation of hearing aids.
Ario is a London-based photographer, filmmaker, and graphic designer working for brands in the Italian city of Brescia near Milan and collaborating with Phan Tu to develop brand identities and designs for companies such as Ogilvy. Ario has been working together with Axel since 2020 for XR HUB as a photographer, brand identity designer, camera assistant, and co-producer.
About Post Author