Project updates
Since 2021, ZEISS is a proud Species Champion for one of the most threatened shorebirds in East Asia, the Spotted Greenshank (Tringa guttifer), also known as "Nordmann's Greenshank". See previous blog article.
The major goals of this program are strengthening the scientific knowledge, building on nature conservation measures and advancing political and local engagement activities through education and outreach to secure the habitats of this target species.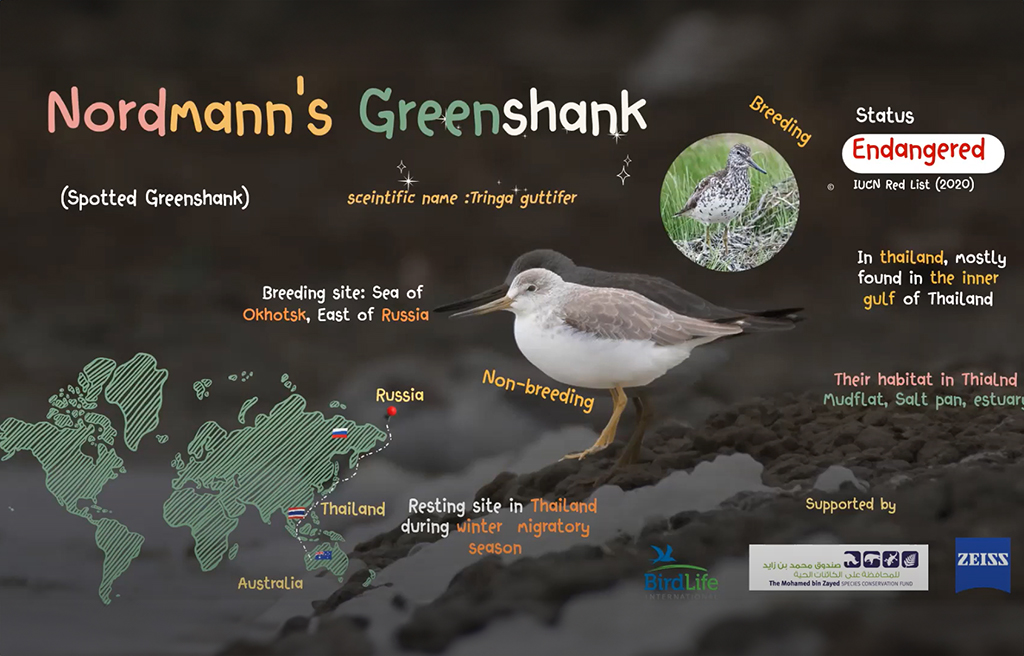 Highlights since the start of the project
Monthly monitoring surveys of wintering/staging across sites for Spotted Greenshank and other migratory waterbird species during the migration/winter months (November to March) organised continually since end 2021.
Spotted Greenshank census organised over winter of 2022-2023, with close to a quarter of the known population counted.
Development of diverse communication material to promote awareness of Spotted Greenshank on social media channels, as well as printed collateral such as brochures of the local BirdLife Partner in Thailand (BCST). Three public talks organised over 2022 to early 2023, in collaboration with different organisations such as Oriental Bird Club and Wildlife Conservation Society.
Young Shorebird Ambassador camps organised to engage local students over 2022-2023.
Stakeholder meetings targeting the local government and local conservation groups organised at all several project sites in the east, south and central Thailand.
Established new collaboration with Philipp Maleko and the Wildlife Conservation Society (WCS) on new satellite tracking of Spotted Greenshank in end December 2022, in coordination with BirdLife and Mahidol University.
Raising awareness and public engagement
The Young Shorebird Ambassador programme is one of BCST's flagship programme to involve young people, especially students from major cities and local communities. The programme aims to engage young people to build their capacity in promoting awareness of migratory waterbirds. Targeted training sessions with communications experts are organised, and the products developed by student teams can be purposed to raise the profile of migratory shorebirds such as Spotted Greenshank. Several training camps have been organised by the end of 2022 to focus on shorebird identification and media development.
Establishment of community (conservation) groups on shorebird and wetland conservation
Through more than two years of regular counts across the winters of 2021/2022 and 2022/2023, eight important wintering sites for the Spotted Greenshank have been identified all across three regions in Thailand – in Peninsular (south) Thailand, east Thailand and the Inner Gulf of Thailand. The BCST team has reached out to and engaged local stakeholders such as schools and fishing communities to establish local community (conservation) groups to consult local people and build community involvement in the conservation of migratory shorebirds and coastal wetlands. This is on top of sustaining ongoing engagements with the communities in Pak Thale (Phetchaburi province) and Khok Kham (Samut Sakhon) which BCST is already very active in.
Throughout the project period from 2022 to early 2023, BCST has now engaged and/or established 10 community groups involved in shorebird conservation. Through these engagements, BCST aims to establish participatory processes for local stakeholders in shorebird and wetland conservation, which in turn is expected to lead to development of programmes of work to guide local conservation activities.
Peninsular Thailand
Krabi Ecotourism group (Krabi Province)
Ow Keuy (Ranong Province)
Ko Libong marine conservation group (Trang Province)
Youth conservation group (Satun Province)
East Thailand
Prasae group (Rayong Province)
Khlong Yai fisheries group (Trat Province)
Inner Gulf of Thailand
Pak Thale Bird and Nature Conservation Club (Phetchaburi Province)
Khok Kham Nature Conservation Club (Samut Sakhon Province)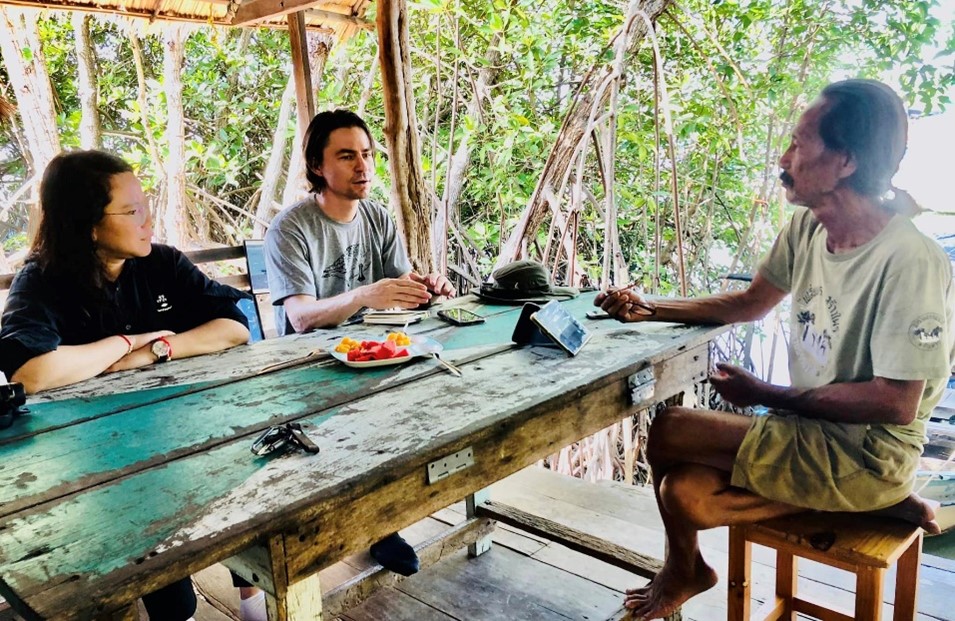 Compiled by Ding Li Yong and Khwankhao Sinhaseni
About Post Author