An interview about sustainable materials, a successful circular economy, and how the packaging performed in our laboratory tests.
On our journey toward greater sustainability at ZEISS, there is, of course, one area that we can't afford to overlook: sustainable packaging for our products. Switching to a sustainable packaging concept poses a number of challenges, including determining which materials are suitable, which are not, and how can we ensure that the products remain well protected? In this interview with Léon Kunad (Head of Category Management for Nature Observation),we discussed these exact challenges, looked back at the beginnings of development, and learned why packaging can be much more than just a fancy wrapper.
Léon, tell us why ZEISS is now using more sustainable packaging for its products?
Léon: "Consumers usually only keep packaging for a very short time or even throw it away immediately. As a company, we believe that packaging plays an important role in achieving an even greater level of sustainability at ZEISS. Generally speaking, when developing the new packaging, our aim was to create a compact and standardized concept for our newly launched products. This helps us use fewer materials and avoid generating unnecessary waste due to unusual formats and shapes as well as conserve resources in storage and during shipping. Most importantly, we wanted to focus on sustainable and recycled materials, taking another step toward a successful circular economy."
What criteria does the new packaging have to meet and what challenges has this presented?
Léon: "When we talk about sustainable packaging, criteria such as the ability to recycle the materials used and the use of recycled materials play a particularly important role. Recycable materials means that our packaging can be returned to the material cycle after use in the best possible way. This means that it must be possible to process them in such a way that they can be used to create new materials. It helps to extend the life cycle of the materials and reduce further consumption of raw materials. In the case of recycled materials, we essentially draw directly on this process and reuse materials that have already been used.
In addition to these sustainability aspects, we also have to ensure that our products are adequately protected, of course. This includes, for example, impact resistance during shipping as well as resistance to external influences such as moisture.
For this purpose, we subject a package with its corresponding contents to various tests in our in-house laboratory. Among other tests, we use a vibration or shaking test to rule out possible abrasion of the foam inside the package. In addition, the lab employees use standardized drop and tilt tests to check the appearance and mechanics of the packaged product before and after the test to ensure that they are not affected by a fall. This involves measuring what is known as binocular alignment before and after the drop test from a height of one meter. This is a sign of quality and indicates how parallel the two optical axes of a pair of binoculars are. Comparing the measurements provides information on whether optical elements have become misaligned due to a fall. Only when the packaging is able to withstand all these tests, we can be sure that it is not only sustainable, but also adequately protects our products.
How exactly are newly launched products packaged at ZEISS now? What did you pay special attention to?
Léon:"Obviously a wide variety of people are involved in the development of new packaging, and they all pay attention to different aspects. On the one hand, as Category Management, we support customer requirements together with Marketing. Together with the Purchasing Department, we review the offers from suppliers and whether they meet our quality requirements. For example, we initially considered using corrugated cardboard as a protective material in the box. In this case, however, our laboratory tests revealed that corrugated cardboard does not pass the necessary drop test and thus does not adequately protect the product in the event of a fall.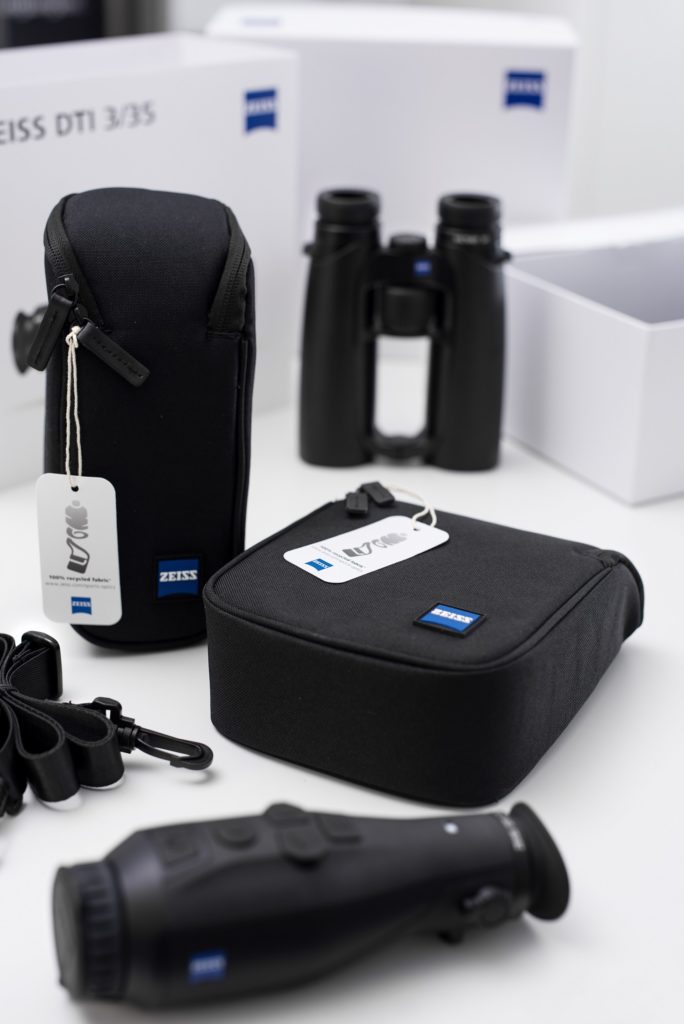 In the end, we decided on a concept that can be divided into two parts: on the one hand, our packaging – the individual components of the cardboard box can now be completely separated from each other and thus easily recycled. The plain sleeve around the box serves two functions – it shows the customer which product is inside the box and it keeps everything together in a compact way. Compared to our previous version, we eliminated the glossy film and magnetic fasteners that are made of much more material.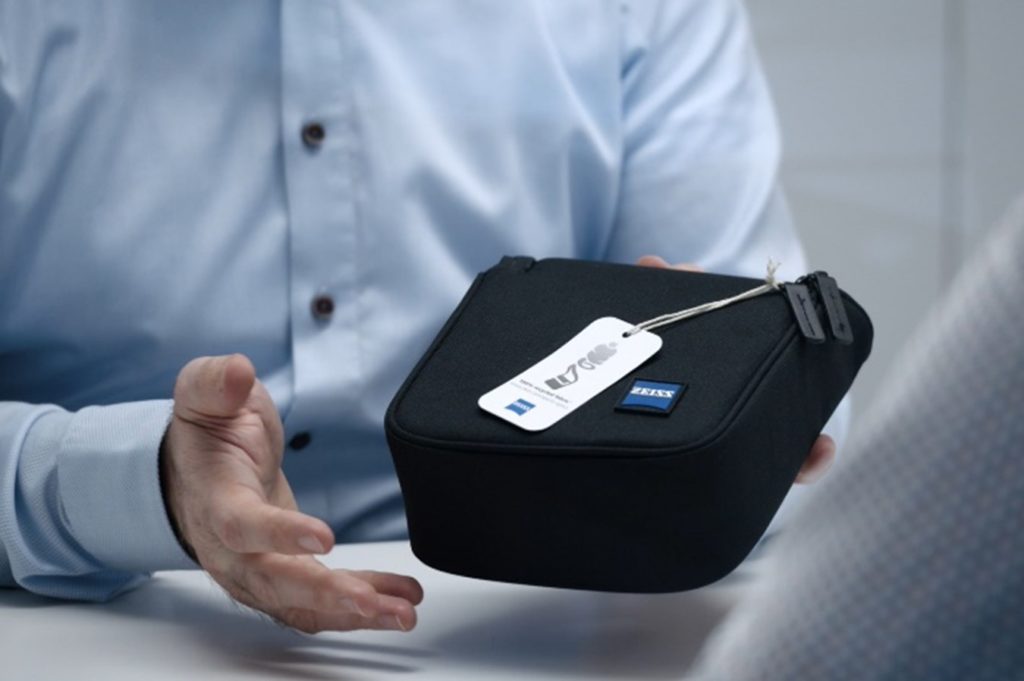 Our product bags feature a standardized and simple design and are made from used PET bottles. About 2.5 PET bottles are recycled per bag. As a result, last year we were able to permanently reuse more than 16,000 PET bottles. But we also paid attention to the little things – a small lens cleaning cloth can be conveniently stored in the small inner pocket. And the bag's zipper opens much more quietly than traditional snap fasteners – helping you stay undetected by birds and other animals longer."
How does the packaging now ultimately contribute to greater sustainability and what comes next?
Léon: "Securely packaging our products so that customers receive our optical devices well-protected is very important to us. At the same time, we want to fulfill our responsibilities to society and fine-tune the parameters that can contribute to greater sustainability at ZEISS. Intricate glossy packaging that uses an extensive and varied range of materials, making recycling impossible, is no longer in line with the times. Packaging today must be able to do both – protect the product and our environment.
By recycling used PET bottles and using recyclable cardboard boxes, we can make an important contribution to a successful circular economy. At the same time, however, we obviously haven't yet reached our goal, but instead are constantly developing and focusing on new, even more sustainable materials and technologies. As an innovative technology company, we will, of course, stay on the ball, because we can and always want to get even better!"
External content
Sustainability @ZEISS
The climate crisis creates major challenges for all of us and at the same time requires the commitment of every individual. As a company owned by a foundation, sustainability and busines…
About Post Author