Review of Terra ED and Conquest HD
As any scribbled doodle or Google Image search of a "bird-watcher" will prove, binoculars are synonymous with birding. This is the one piece of equipment that no birder can do without. Perhaps you've owned a treasured pair for many years, but you feel it may be time for an upgrade judging by the spiderweb of scratches across the lenses. Perhaps you're new to the birding game, and looking for advice on which pair to buy. Or perhaps you're wondering why the experts are able to discern so much more detail through their bins than you can through yours.
Buying the right pair of binoculars is a challenge. There are seemingly countless brands and models to choose from, and quite frankly, the differences between the top makes are virtually negligible. In his extensive 2013 review (African Birdlife 1(3):48-52), Peter Ryan and his review team came to a similar conclusion: a convergent evolution of optics, if you will. Traditionally, the big three have always been ZEISS, Leica and Swarovski. Lately, brands such as Minox, Kowa, Vortex, Lynx and several others also offer excellent optics at competitive prices.
---
ZEISS' ENTRY-LEVEL BINOCULARS, THE TERRA RANGE. SHOWN HERE ARE THE 8X25 POCKET MODEL, RECOGNISABLE BY ITS BLUE RINGS, AS WELL AS THE 8X32 ED MID-SIZED MODEL, AND THE LARGER10X42 ED. TERRAS ARE AVAILABLE IN BLACK, GREY OR GREEN.
---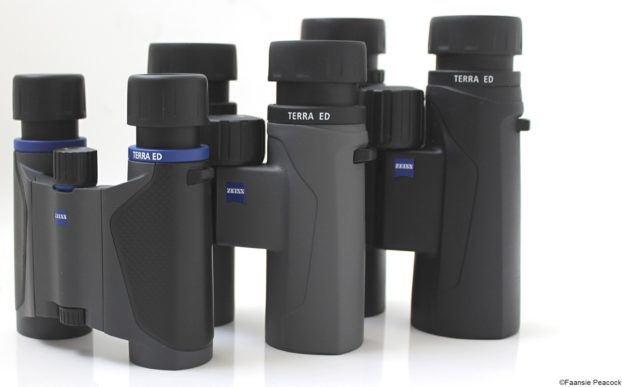 BIRDING WITH ZEISS
For several years, German optics manufacturer Carl Zeiss has fostered a relationship with BirdLife International, and have so made a tangible contribution to bird conservation throughout the world. Locally, this includes sponsorship of BirdLife South Africa events, and in supplying key field workers at BirdLife with optics. Furthermore, a significant proportion of the sale of each ZEISS product sold through BirdLife South Africa's website goes directly towards the important conservation work of this NGO. ZEISS furthermore runs courses, outings and birding blogs: truly, they support birds and birding. And that's why I think birders should also support them. That, and the fact that they produce some of the world's leading optics!
ZEISS understands the requirements of birders, who are notoriously selective, specific and informed about gear, and tend to put their equipment through demanding and rigorous use (abuse?) in the field. They also understand that different users will demand different features in their optics. With this in mind, I was offered the opportunity to review six pairs of ZEISS binoculars. It is not wise to buy a pair of expensive binoculars blind off the Internet, or based solely on a published review. It is imperative to hold the product in your hand, get a feel for its weight and balance, and most importantly find some birds to test it out on. So I was excited about the prospect of reviewing these, not by looking through the office window, or by comparing lists of specs, but by taking the binoculars out in the field, and providing an honest opinion of their respective pros and cons.
HANDS-ON REVIEW
Lens diameter. Exit pupil diameter. Diopter adjustment range. Subjective angle of view. Reading binocular reviews can be straining, if you lack a background in optometry and engineering. Let me offer you some eye relief. I don't think it's really necessary to understand all these terms before you purchase a new pair of bins. In fact, I'd bet that most birders will value ease-of-use features and ruggedness above minute differences in optical quality and technical specifications. I have a specific memory of a Lesser Swamp Warbler, seen through a pair of ZEISS Victory HTs, that still feels permanently burned onto my retinas. This is reflected in ZEISS' tagline: This is the moment we work for. This is a review for birders, by a birder.
---
THAT BEING SAID, THERE IS NOTHING QUITE LIKE THE MOMENT YOU SEE A BIRD IN GREAT LIGHT, AND REALLY WELL, THROUGH A NEW PAIR OF TOP-END BINOCULARS.
---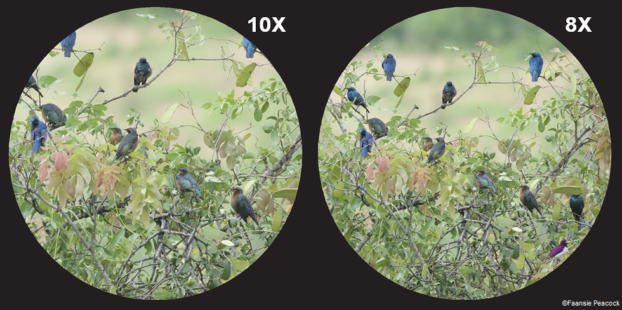 ---
A WIDER FIELD OF VIEW MAY BE MORE DESIRABLE THAN ADDITIONAL MAGNIFICATION, PARTICULARLY WHEN OBSERVING FLOCKS OF BIRDS, SMALL FAST-MOVING SPECIES, OR IN WOODED HABITATS – AS IN THE CASE OF THESE MIOMBO BLUE- EARED STARLINGS. NOTE THE VIOLET-BACKED STARLING VISIBLE AT THE BOTTOM RIGHT OF THE 8X VIEW. MOST PEOPLE AGREE THAT THE MORE STABLE IMAGE VISIBLE THROUGH 8S ALLOWS THEM TO DISCERN MORE DETAIL THAN THE SLIGHTLY LARGER BUT MORE SHAKY 10X IMAGE.
---
THE GREAT DEBATE: TEN OR EIGHT Binoculars' greatest power is of course in their magnification of an image. In bringing a raptor thermaling way up in the clouds down so you can discern those all important carpal patches; or enlarging a flock of waders out on the mudflats so you can discern the split supercilium that distinguishes Broad-billed Sandpiper from Little Stint. It stands to reason that bigger is better: the more magnification, the larger the image. Therefore, many birders, myself included, have traditionally opted for 10x bins. However, having reviewed 8x and 10x binoculars, I am now firmly of the opinion that 8 is greater than 10. There are two main advantages to a smaller magnification.
Firstly, it offers a wider field of view. For birders who have had years of practice at locating warblers skulking in a leafy canopy this makes little difference, but in most cases, the extra proportion visible at lower magnification does make life easier. This is particularly true in densely vegetated habitats where it all too easy to lose sight of a rapidly moving target. The same applies to pelagic birding from a pitching and rolling vessel. If you don't believe me, try out both models, but the 8x first. I'll be willing to bet you'll feel like a horse with blinkers looking through the 10s. Secondly, less magnification equals less shake.

---
THE 8X32 TERRA (LEFT) IS COMPARABLE IN SIZE TO THE CONQUEST MODEL OF THE SAME MAGNIFICATION AND OBJECTIVE LENS SIZE (THIRD), BUT IS ONLY ABOUT HALF ITS PRICE. THE SAME APPLIES TO THE TERRA 10X32 (SECOND) AND CONQUEST 10X42 (FAR RIGHT). HOWEVER, THE CONQUESTS ARE OPTICALLY AND ERGONOMICALLY SUPERIOR TO THE TERRAS, AND OFFER EXCELLENT VALUE FOR MONEY. THE CHOICE IS YOURS.
---
THE CONTENDERS
Specifically, this review features ZEISS' entry-level and mid-range makes, focusing on the Terra ED range, in the under R10 000 bracket; and the Conquest HD range (at R12 000 – R15 000). Each class was represented by a compact 8×32, and a bigger 10×42. In the Conquest was also the intermediate 8×42, while the Terras included the decidedly cute Pocket 8×25 model. I spent three months roaming around in scorching bushveld, damp wetlands and salty coastlines with these. I also roped in many birding colleagues, of all ages and experience levels, for their opinions.
SETTING THE STANDARD
Setting an impressive standard right from the outset, ZEISS products come in a modern and minimalist white box, which unfolds majestically to reveal its precious contents nestled in a foam recess.
This sleek packaging strategy simply screams German engineering, and is guaranteed to leave you with a feeling of having made the right purchase, and a smile on your face. The exception to this is the Pocket model binoculars, which come in a translucent, sturdy plastic case. Several accessories come standard with all the models: a comfortable neoprene neckstrap, with a soft 'aircell' in the case of the Conquests, plus durable eye-cup splash guards and objective lens covers, a lens cleaning cloth and the relevant manuals and documentation. A sturdy canvas carrying bag, that can slip onto a belt or strap, is also included.
Terras feature a two year warranty against factory faults; this extends to ten years in the higher priced Conquests. All the binoculars are nitrogen filled and water resistant: to a depth of one meter in the case of the Terras, and four meters in the Conquest models.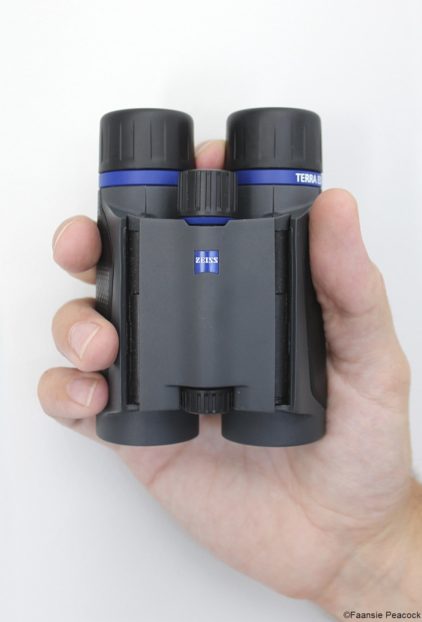 GRAB AND GO: TERRA 8X25
You don't need deep pockets for the ZEISS Terra Pocket 8x25s. And I mean that both metaphorically and literally. I often grabbed these at the last minute to accompany me on a morning jog–weighing only 310 g, you completely forget that you have them with you, until you need them. To me that is precisely the point of a pair of inexpensive, super compact binoculars. A fallback in case of emergency. I decided to purchase a pair to keep in my car; just in case I need to make a dash for a rarity, or if a raptor cruises overhead while I'm stuck in a traffic jam. You could even sneak them into a concert or sports stadium in your wife's handbag. Of course they are somewhat optically inferior to their bigger cousins, but definitely not to the degree that it would be frustrating in most situations. One caveat is that one should perhaps not opt for the 10x Pocket model, as such a high magnification on a mere 25 mm lens diameter results in a restrictively narrow field of view.
These were also my four year old son's clear favourite. On more than one occasion he nicked them from my office to go exploring out in the garden. Considering their relatively low cost and robust design, these would be ideal binoculars to introduce children to the world of birding. The diagnostic blue rings below the eye-cups really appeal to the designer in me–a smart marketing move on ZEISS' part, as is their choice to use memorable words instead of codes as names for their various products.
PROS: Tiny and very light; truly pocket-sized.
CONS: Focus ring small and not ideally placed for larger hands. Inter-eye adjustment too flexible.
IDEAL FOR: Hikers, joggers, occasional users and birding emergencies. An excellent choice for children.
---
THE TERRA 8X25 POCKET MODEL IS THE LEAST EXPENSIVE BINOCULAR OFFERED BY ZEISS. NEVERTHELESS, IT IS STILL A FORMIDABLE PIECE OF HARDWARE WHICH OFFERS EXCELLENT OPTICS. AT ONLY ABOUT 300 G AND 111 MM IN LENGTH, IS PERFECT FOR BIRDING ON THE GO.
---
TERRIFIC TERRA ED
ZEISS rather humbly labels these as their entry class binoculars, with SCHOTT ED glass, featuring a hydrophobic coating, as opposed to the HD lens with LotuTec coating of the Conquests. The difference in optics and ergonomics is apparent, but not striking. I was impressed with the ease and steadiness of the focusing mechanism, particularly on the smaller 8x32s–I would rank this on par or perhaps even slightly superior to the Conquests'. Perfect for quickly getting that flushed crake in focus, and keeping it sharp until it dives back into cover with legs dangling. The focus might be a little too fast on the 10×42 Terra, resulting in some back and forth until the image is in sharp focus.
At a little over R8 000, a pair of Terra EDs are half the price of a Conquest. Perhaps they won't last a lifetime, but then again, you could always just buy another if you somehow manage to destroy the first (which I strongly doubt). I would highly recommend these for someone who would classify their interest in birds as passionate, but not obsessive. If you go birding only on weekends, or keep your binoculars in a cupboard at home, these are for you. If you skive off work to go birding during the week, and keep you binoculars on the kitchen table, read on. The smaller 8x32s are great binoculars for people with smaller hands or who are already burdened with cameras, telescopes or other equipment. A number of female reviewers selected these as their first choice. Oh, and what's life without whimsy? In addition to the standard black, new Terra designs are also available in sleek grey and black and attractive green and black. The eye-catching bright blue version is no longer in production.
PROS: Good optical performance, particularly in handling of glare, at a reasonable price. Smooth, intuitive focus.
CONS: Rubber armour, overall quality of build and eye-cups inferior to Conquest. Diopter can be difficult to adjust.
IDEAL FOR: Beginner or intermediate birders, or perhaps mildly interested birders' spouses. Perfect to accompany you on a yearly safari or expedition. An excellent 'backup' for serious birders, e.g. in case your primary bins get lost or stolen on an overseas birding trip.
---
LADIES SIZE: CONQUEST 8X32
I have to admit something: I had an amorous little love affair with a pair of 8x32s Conquests. The light weight and shapely ergonomics of this model makes her, uhhh…it, really attractive and nearly irresistible to hold. The 8x32s weigh in at 630 g, about halfway between the two larger Terra models, but considerably lighter than the approximately 800 g Conquest 42s. The 8x32s measure 18 mm, about one eye-cup, shorter than the bigger Conquests. At an incredible 1.5 m, the close-focus limit on these babies is the shortest of all models evaluated (though almost rivaled by the larger Terras). You can literally focus on your own toes. In addition to pedicure appreciation, this is ideal for watching butterflies and dragonflies. At the larger end of the focus spectrum, they offer the widest field of view: 140 m at 1 km, compared to 128 m in the 8x42s and 115 m in the 10sx42s. The smaller objective lenses do mean a small loss of brightness and vibrance when birding at low light-levels: at dawn or dusk, or in forests, for example. However, the exit pupil size is actually very close to the 10×42's (4.2 mm vs 4.0 mm), though not as impressive as the 8x42s' 5.3 mm. Personally, I would still choose the more macho 8x42s, but it's a very close call.
PROS: Fantastic close focus. Small and lightweight , yet with excellent optics. Wide field of view.
CONS: Marginally poorer performance than x42s models in low light conditions.
IDEAL FOR: Women. Photographers who are already burdened with other gear. Hikers. Or when birding in rough terrain or thick bush.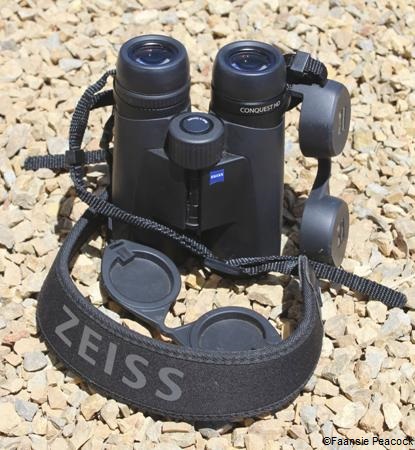 CONQUEST HD x42: THE PERFECT BINOCULARS FOR BIRDING?
At the end of the day, the Conquests conquered my heart. These combine all the requirements I have for birding binoculars: incredible optical clarity, high light transmission, comfortable ergonomics and exceptional ruggedness. To elaborate on that last point: though I did not have the liberty of subjecting the review products to exaggerated trials to simulate field conditions, there are hours of entertaining footage online of reviewers doing just that. Let's just say that the ordeals of a day in the field–perhaps an occasional wipe with a shirt, or being dropped in the dirt-don't even compare. ZEISS were willing to gamble that their Conquests would withstand extremes in friction, gravity, shock, temperature, submersion, gunfire and even detonation. Turns out they were right.
A useful feature of the Conquests, is the four-position locking mechanism of their eye-cups. This allows users to select their preferred setting, instead of simply either fully in or fully out. The diopter, situated below the right eyepiece, adjusts easily but stays in place while twisting the eye-cups in and out. The focus is smooth to the touch but not overly sensitive, and at ideal speed shifting the focus from a realistically close point, say 3 m, to the horizon requires only half a turn, without the need to raise and readjust your index finger. This was actually my main qualm with the Conquest's big brother, the Victory HT; while the meticulous focus of the latter model offers good precision, ideal when hunting for example, birding requires a quicker reaction time.
---
MY FIRST CHOICE: A PAIR OF ZEISS CONQUEST 8X42S. THIS PAIR IS FULLY EQUIPPED WITH A REMOVABLE SPLASH GUARD TO PROTECT THE EYEPIECE LENSES AGAINST RAIN OR DUST AND AN OPTIONAL COVER FOR THE OBJECTIVE LENSES; THE LATTER CLIPS ONTO THE SIDES OF THE BARRELS. ALTHOUGH NOT VISIBLE HERE, THE NEOPRENE NECK STRAP FEATURES A COMFORTABLE 'AIRCELL'. LET'S GO BIRDING!
---
The Conquests feature soft but sturdy eye-cups, that don't cause discomfort even during long observation periods. The binoculars are coated in rubberised armour and have a feel of real quality and durability-which almost, but not quite, evokes a desire to 'throw them around a bit' just to prove that they can take it. This look and feel of indestructibility inspires confidence in the product-these are the binoculars that will accompany me across oceans, through deserts and over frozen wastelands in search of birds.
Standing 150 mm high, and 120 mm wide at a typical eye width, these are not small optics. However, they do not feel bulky or cumbersome in the field. The 8×42 and 10×42 models are identical in weight and dimensions, and the decision on which of these to buy is a tricky one. For its higher light transmission, increased stability and wider field of view (128 m vs 115 m at 1 km), I would choose the 8x42s-these are truly versatile binoculars. However, if you typically bird in open habitats and over long distances, and have a steady hand, the greater magnification of the 10x may be right for you.
I was interested to note that Ryan's review team, in their aforementioned article, scored the ZEISS Conquest as 'best value for money, hands down'. I agree wholeheartedly, as do a great many birding colleagues-from my father-in-law who leaves his pair at their game farm, to professional guides who are in the field 300+ days a year.
This is still a pricey pair of binoculars: you could buy two pairs of Terras for the same price, though only half a Victory HT, and about a third of a Victory SF, ZEISS' top flagship. Nevertheless, I believe this may well be the last pair of birding binoculars you ever buy.
The moment that irrevocably sealed my connection to the Conquest came when a pair of Grey-winged Francolins ambled into our strandveld garden. The bins happened to be lying next to me on my desk, and I grabbed them for a closer look at these petite and reclusive gamebirds. Even though I had seen this species countless times before, what I saw that day changed my whole perspective. Every single feather, in exquisite detail and breathtaking sharpness. This is definitely the moment I worked for.
PROS: Excellent optical performance and durability. Perfect focus speed. Multi-level eye-cups.
CONS: Heavier than the smaller models.
IDEAL FOR: Passionate birders. Researchers. Users that require versatile, high-performance binoculars that will ensure a lifetime's observations in the field.
For more information and technical data please visit our website: Conquest Binoculars and Terra Binoculars.
About Post Author