Expert interviews
Faster, more precise, more cost-effective: inline production is constantly evolving. But not every innovation can revolutionize the entire process like "correlation-free measurement." Dr. Kai-Udo Modrich, Managing Director of Carl Zeiss Automated Inspection GmbH, explains the rules of the game which change and the advantages that are created for the automotive industry.
Why is "correlation-free measuring" a game changer for in-line manufacturing? What makes this solution from ZEISS so revolutionary?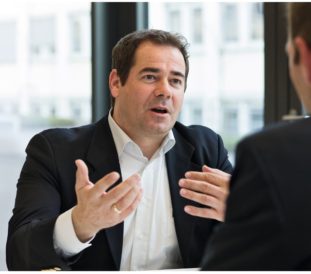 In-line measuring normally requires that car body parts be measured again on a regular basis using coordinate measuring machines. Up until now, this has been the only way to eliminate errors caused by temperature fluctuations. Our system makes this second round of measurements superfluous and has a positive impact on the entire manufacturing process. It frees up the measuring lab, lightens the measuring technicians' workload, and car body parts no longer have to be taken off the production line to be measured and then brought back. This technology ultimately saves OEMs a lot of time and money in serial production. Yet the most revolutionary aspect about correlation-free measurements is that our customers significantly improve their process reliability. Now they know, for example, if the welding robot is working as it should – starting with the very first part. This speeds things up, particular during the ramp-up phase for new production lines or series.
You first introduced "correlation-free measuring" at the Control trade fair in 2017 to a broad audience of specialists. Did they share your excitement?
Yes, the feedback we got from customers was fantastic. As I already mentioned, this solution offers OEMs a lot of different advantages that increase their competitiveness. That is why there is so much interest in our system. We have already started installing the solution at an automotive manufacturer's production site. Another OEM wants to test the system as part of a pilot project – we will begin constructing the system in August. We have also brought this innovative solution to market at the right time. That is due in large part to how closely we pay attention to our customers' needs. A manager of a large German automotive company told me at Control: "ZEISS listens carefully and implements what we want."
Will correlation-free measurements completely replace standard in-line measuring technology or will these coexist side-by-side?
Both systems will coexist, for a while at least. The primary reason is costs – completely replacing existing technology would be an extremely large investment for an OEM. That is why we are currently working on offering solutions for retrofitting our existing ZEISS in-line measuring systems. Moreover, there will always be customized processes or components where traditional in-line measuring technology is sufficient. As a solutions provider, we are happy to be expanding our sensor portfolio with correlation-free measuring technology so that we can offer our customers products that will of the greatest use to them.
What challenges are ahead for ZEISS in further evolving correlation-free measuring technology?
We are currently installing the technology at the first OEMs and will certainly learn a lot in the process. We will pass on this knowledge internally, using it to improve performance and further evolve this technology. It is also a question of making the solution advantageous for other applications, such as robot guidance in assembly.
When a new innovation is successful or is about to be a great success, people often ask: why didn't someone think of this sooner? Couldn't ZEISS have developed correlation-free measuring technology, say, five years ago?
That is more of a theoretical question. What is important to us is that we are bringing correlation free measuring technology on market at the right time. Feedback from customers has shown us that many OEMs have been waiting for this type of solution for quite a while – and we were the ones to develop it!