Expert interviews
Christoph Grieser, Head of the Software & Quality Intelligence business unit at the Industrial Metrology business group, is confident that what ZEISS is currently developing with Cisco will ensure the companies' future. Want to know why? Read more here:
The Cisco/ZEISS cooperation is another step towards Smart Factory of tomorrow. What is so special about it?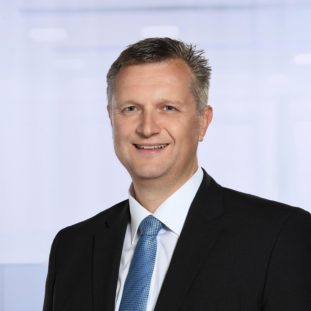 Here we have two strong partners working as equals to drive digital networking. Cisco is a leading company in the area of networking and security. You might say that connectivity is in their DNA. With ZEISS PiWeb, there is already a solution that enables the comprehensive analysis of different measurement data. With Cisco, ZEISS is taking another major step forward. When the data from the measuring systems leave the company network, it's as if they're being sent out beyond the customer's own internal IT fortress. To ensure that this information does not fall into the hands of unauthorized persons, we need a secure connectivity platform. That is why we are developing this basic technology for the Smart Factory of tomorrow with Cisco.
How exactly will this new platform help ZEISS customers?
Companies that use the connectivity platform will have access to innovative services that significantly increase the efficiency, transparency, security and up-time of their systems. For example, our service technicians will be able to analyze a lot of problems remotely via this platform and even perform maintenance without being on site. There will also be services that give the operator particular types of support, such as by making specific suggestions concerning how they should proceed following a collision or via tailor-made e-Learning offerings for reducing operating errors. It is also conceivable that companies will submit their data to a database anonymously for comparison, enabling them to see how they stand up within their comparison group – and all in real time.
What is currently being planned as part of this cooperation?
We are currently trying out the infrastructure and have involved multiple ZEISS measuring houses. We'll be rolling out the platform in the coming months, starting with multiple pilot users who contacted us after we presented the collaboration at Control 2017 because they saw the potential for their businesses. I think the connectivity platform will be available globally by spring 2018. But that platform is not the only thing we're focusing on. We are currently pulling out all the stops to develop innovative services that will make our customers more successful.
Are there already comparable projects from other metrology solutions providers?
I haven't heard of any. But I can't imagine that our competitors have failed to recognize the enormous opportunities this presents for companies. That's why I suspect they're working on similar solutions.
What are the greatest challenges in developing this platform?
Our customers come from different sectors in industry with very specific requirements for a connectivity platform. Thus there cannot be and never will be just one solution. That's why we are developing an open platform that can be integrated with or is compatible with other solutions. Another challenge is that countries regulate data transfer differently, and we need to observe these requirements in order to market the connectivity platform globally.