The QA Navigation Board enables teams to make targeted and efficient decisions for every software project with regard to aspects of quality assurance, their order of priority and their implementation. We have created a short video tutorial to explain how it works.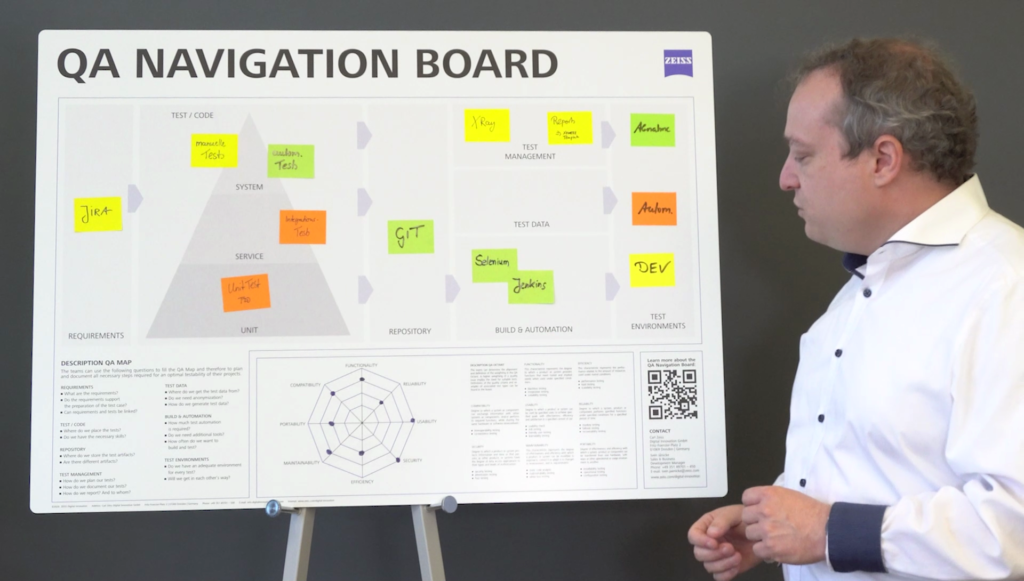 How the QA Navigation Board works
Every software project is characterised by its own individual focus. The resulting quality requirements are equally as specific. For this reason, suitable measures – according to each topic – must be established in order to test these quality requirements. With this in mind, we developed the QA Navigation Board to accurately evaluate the methods and plan the sequences in a meaningful way: The Board is an aid that enables teams to organise testing for software projects in the best possible way. The following questions are taken into account: What needs to be tested, how, to what extent, where and when?
Video Tutorial (German only)
An introduction to the tool is helpful, as it ensures that the Board can be used correctly and without delay. We have therefore explained how it works in a supporting video tutorial. How is it structured? In an ideal world, which test planning steps should be carried out in sequence and why? This enables the user to make the best possible start, step by step.
Experiences using the QA Navigation Board
The QA Navigation Board is already being used consistently and with great success across numerous projects. Teams that have used the Board say that: It is inclusive of every single member of the team and their respective skills. It ensures that no aspect of the software is overlooked and that quality assurance takes place in line with their objectives. Working with the QA Navigation Board therefore ensures clarity, gives a clear focus and allows for collaborative creation across the whole team in a workshop.
Introductory workshop
For teams that want to incorporate the Board into their processes, we are still offering a detailed schedule for running an introductory workshop for the QA Navigation Board. A detailed description of how to complete the Board as well as the meaning behind each individual point can be found and referred back to at any time here.
When it comes to recognising and eliminating typical QA problems and their effects, the Board can be used as a tool for the "case history of the QA strategy for agile teams" – a description of the procedure is available here.
This post was written by: