As early as spring we at ZEISS Digital Innovation (ZDI) started to plan our Christmas party which normally takes place on the Friday before the 1st Sunday of Advent. In 2020 we quickly came to realize that a traditional Christmas party where all the employees normally meet in Dresden and celebrate together would unfortunately not be possible this time. Cancelling the Christmas party was not an option for us either, so we started to search for a new format.
We came back to the idea of our 1st ZDI online campus event which had already received a lot of positive feedback. It was especially important to us this time that we created an all-encompassing festive mood, in addition to the intern knowledge sharing. But how could we bring this home to our colleagues?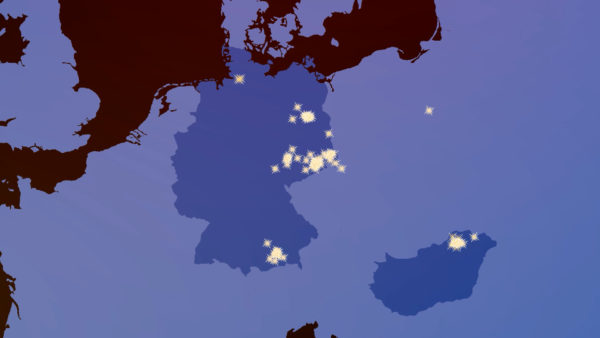 A small Christmas surprise for all employees
To enhance a Christmas atmosphere all employees received a small Christmas parcel by mail with the request that it should only be opened on the day of our common online campus event.
All 345 parcels were personally packed by the organizational team to a background of festive Christmas music. We were happy that the Christmas surprise arrived in time at the homes of all our colleagues in Germany and Hungary.
So all were on time for our 2nd ZDI online campus event with Christmas goodies, mulled wine and traditional Christmas spices to create a delicious punch, an Advent calendar, a Christmas party hat and other small gifts and off we go!
2nd online campus event including online team game and Christmas celebration
Using the positive experiences from our 1st ZDI online campus event this time again we offered different lecture slots from and for our colleagues during the whole day. The technical realization was done again via Microsoft Teams. We had 29 lectures altogether covering a variety of different topics such as Java, .NET, Cloud, Usability, Agile and Web. Through lessons learned the first time around we adapted the length of the lecture slots increasing them to 45 minutes instead of 30 with 15-minute breaks in between to change. So everyone had time to breathe and mentally prepare for the next one.
After a longer lunch break our online team game took place, 28 teams took part, consisting of nine to ten players in each one. When we put together the teams we paid great attention to the make-up of each team ensuring that they were as heterogeneous as possible regarding the level of maturity, location and business area. Each group had their own team room for solving the tasks, it was a super way to get to know each other. The activities included among other things general knowledge questions, charades and quizzes as well as practicing the Christmas team contribution, which every team presented live at the end of our online campus event within the framework of our collective Christmas party.
We kicked off our Christmas Celebration together by drinking a toast! After that each team started to show their live Christmas contributions. There were musical and poetic presentations and performances including Christmas greetings in different languages together with Christmas film tips and recommendations. All teams were extremely creative and the team chat was also available and used actively adding another dimension to our party. So despite the wide distribution and accompanying physical distance, there was nevertheless a contemplative Christmas mood that was felt by all.
Conclusion
We all knew that an online format and a virtual Christmas celebration could never replace the feeling of a real on-site Christmas party with ice skating, delicious food, dancing and the relaxed atmosphere amongst one other. Still, we were pleasantly surprised how much festive, community spirit could nonetheless be felt online. It has shown us once more that we are a strong team acting in unison and despite Corona we are ready to make the best of the current situation breaking new ground together.
It is uncertain if we may celebrate a summer or Christmas party with all the colleagues in Dresden on-site this year. But one thing is already for sure: our new online campus event format with team games is certain to outlast Corona.
This post was written by: