In this blog post, I would like to talk about my personal experience working in Saxonia Systems (since 03/2020: ZEISS Digital Innovation) first distributed team in Dresden and Miskolc, Hungary. The exciting thing about this is that 60 people located almost 1000 km from Saxonia Systems head office can work on the same project as the colleagues in the office next door, and yet they are a true team. People who do not have experience working in a distributed team will probably have some difficulty understanding how this type of collaboration works. I am writing as the scrum master of a team, half of which is located in Dresden, the other half in Miskolc, Hungary. This blog post is meant to show how we started working together, and how we gained the trust and courage to build this team.
Initially, the team consisted of the following people: Three developers and a business analyst from Dresden, and three developers and a scrum master from Miskolc. The German half of the team had already been working on the project, but there was still a lot of work to do before the deadline. At the beginning, we all had different expectations in the collaboration: At first, we were afraid of the camera on the wall. How are we supposed to work when someone is watching us all day? How is a distributed team supposed to work when our German language skills are not that great? How are we supposed to work with colleagues who are that far away?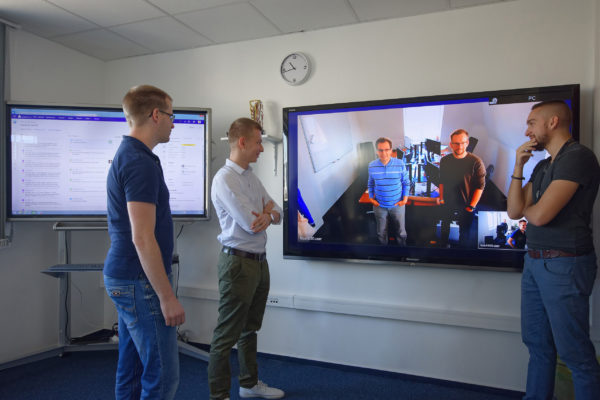 Time was short, and we quickly set up the offices according to the ETEO concept. Once the basics had been established, we met in person for the first time. The trip only took a few days—just enough time for us to get an idea of the project together. We thought, now that we had met in person, there was no more preparation left to do—we all liked each other. So now we should focus on the project start, and that's that. However, we soon realized that it was not going to be that simple.
We came to realize that the permanent video connection is not the solution for distributed work, but merely a tool that helps the team in their work. It is great that we can see the others all the time, but nobody had the courage to stand before the TV. How could we expect team members who had met only once or twice to have the courage to ask a simple question in front of the entire team? More likely than not, the answer would be "I don't want to bother the others. Instead of asking them, I'll just google the problem, right? If I'm lucky, I'll find the answer quickly; worst case, I'll spend hours on this." I think it is obvious that the team cannot afford losing that much time in such a situation if they want to be effective.
I believe that this kind of courage grows in people if we are able to approach and start to trust each other. It is not easy to build trust without meeting in person, talking casually, having dinner together, and undertaking team-building activities. Based on my experience, I can say that what really helped us build a true, geographically dispersed team was the possibility to travel back and forth between the locations in the early stage. Team members need to be able to sit next to each other; they need to be able to feel like a team, not just like people working together on something. Later, meeting once a month or every other month is enough. Still, that should be the maximum interval because the connection has to be maintained; otherwise, the team's productivity diminishes.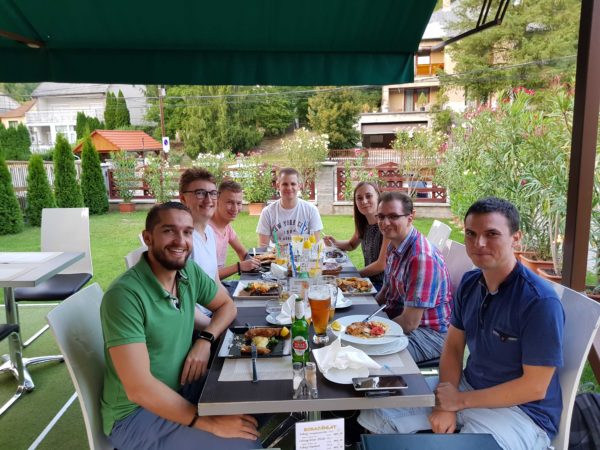 Being agile is another important objective. That may sound cliché, but it helps the team to evolve and demonstrate their individual values. Below I will describe a few examples that helped us get where we are today.
For example, we started working with new technology that not all of us were familiar with. In the past, we used to try and share knowledge in pair programming sessions because we did not have specific scrum meetings for this kind of activity. As a result of a retrospective, we found that we needed to organize "Developer Cafés", weekly meetings where we sat together and exchanged our knowledge of the selected issues within the team.
Learning German is another example. Our project language is English, but the team decided to speak German in the daily stand-up meetings because they wanted to learn the language. You might think that this was only difficult for the Hungarian colleagues, but that is not true. It was a great challenge for the German colleagues as well because they had to speak more slowly than usual, and be careful to use simple sentences.
This kind of thing is usually the result of the retrospective, the most important scrum ritual in the team's life. We have to resolve our problems within the team and improve. This is the best opportunity for the team to evolve. In this context, it is very important at times for the team to be able to do a retrospective together in one location. Personal meetings help to strengthen the bond within the team—this is my most important advice. Because over time, the team will evolve, provided that they are encouraged and feel that they are a team.