How the ZEISS DTI was Developed and Why Category Management Played a Special Role in the Process
Thanks to its high-performance binoculars and riflescopes, ZEISS has been popular with hunters for decades. The HT series from ZEISS particularly stands out for its high light transmission values. The company developed its first night vision devices all the way back in the early 1990s. Its entry into the world of thermal imaging is based precisely on this expertise.
In a short series of articles, we are taking a closer look at the crucial steps a ZEISS DTI goes through until it is available to customers at the store and beyond. Enjoy exciting insights into the origins of the DTI, the demanding tests ZEISS puts it through, and the comprehensive range of services the company offers, even long after the purchase.In the first part of the four-part series, we talked with Tammo Lüken from Category Management about his responsibilities and the new DTI 3/25.
Tammo, as head of Category Management, you oversee all of our new hunting products. Can you briefly describe the responsibilities of Category Management at ZEISS?
Tammo Lüken: "Category Management has an extremely wide range of tasks. We oversee new products launches right from the initial idea. What are the market requirements for the device, which customers will it appeal to, what features does a new device need? These are all fundamental questions that we discuss with our product developers.
After we have finalized the technical details, we continue to guide the product through its development. We get an impression of the feel of the product, for example, are buttons and controls arranged sensibly, is the image quality okay? It goes without saying that the sustainability of our packaging also plays a major role. We are also closely involved and focus on sustainable and recyclable materials. In essence, you can say that everything the customer sees and feels with a ZEISS product goes through us in Category Management."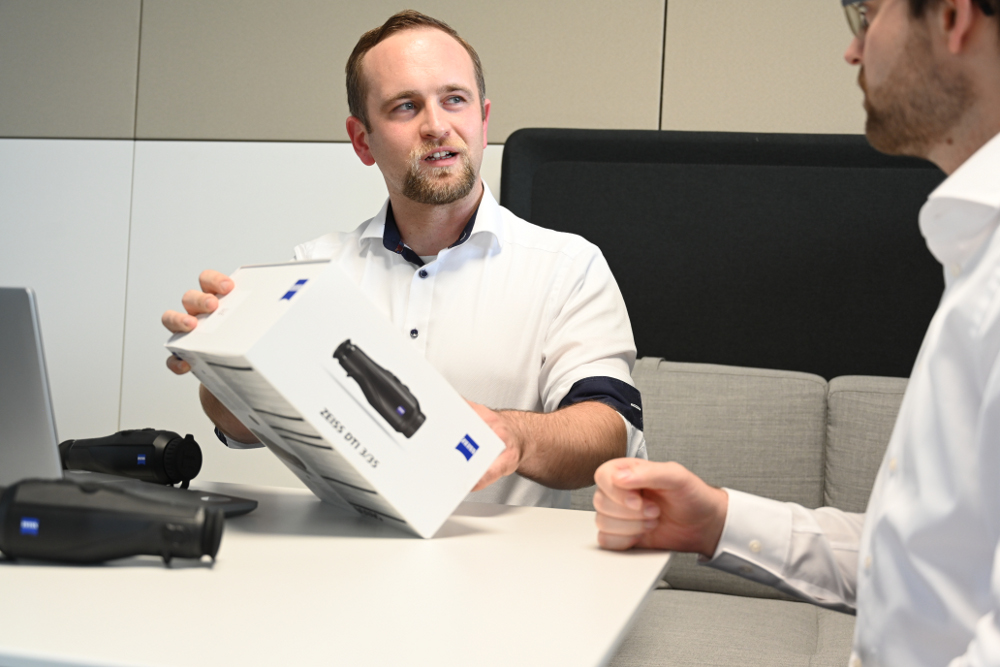 How is a new product actually created at ZEISS?
Tammo Lüken: "Identifying innovative technologies early on is very important. As I have been an active hunter myself for 14 years, my colleagues and I naturally often notice practical aspects of products that we could do better. We come up with initial new product concepts on the basis of a mix of both hands-on experience and extensive research at trade shows, online, in conversations with hunters, and in discussions with R&D and Sales."
Why did ZEISS launch a thermal imaging camera?
Tammo Lüken: "ZEISS is, of course, known for its traditional optical products such as riflescopes and binoculars, which are particularly impressive during night hunting thanks to their unparalleled light transmission. Developing our own thermal imaging camera was simply the next logical step for us as night hunting experts. With the DTI family, we will provide an entire range of products that will decisively complement our existing products, especially when hunting in the twilight and total darkness."
What did the team pay special attention to when developing the DTI?
Tammo Lüken: "After I was able to test numerous products from other manufacturers in the field, I noticed that the usability of many devices was lacking. The menus are sometimes rather hard to read and the small font used in the menu itself makes correctly configuring the device pain. In stalking situations where the ability to operate the devices instinctively would be important, I triggered a photo instead of the zoom function, for example, due to the unfavorable arrangement of buttons. Or once I had a thermal imaging camera in one hand, the shooting stick in the other, and the rifle on my back. In order to get one hand free and set up the rifle, I wanted to put down the thermal imaging camera – not a great idea in a muddy field. In this case, a carrying strap would have been great, of course. It is exactly such important details that not only me, but also other hunters notice while hunting with thermal imaging cameras. We wanted to significantly improve upon these aspects with the DTI and offer a product that truly meets the needs of the target market.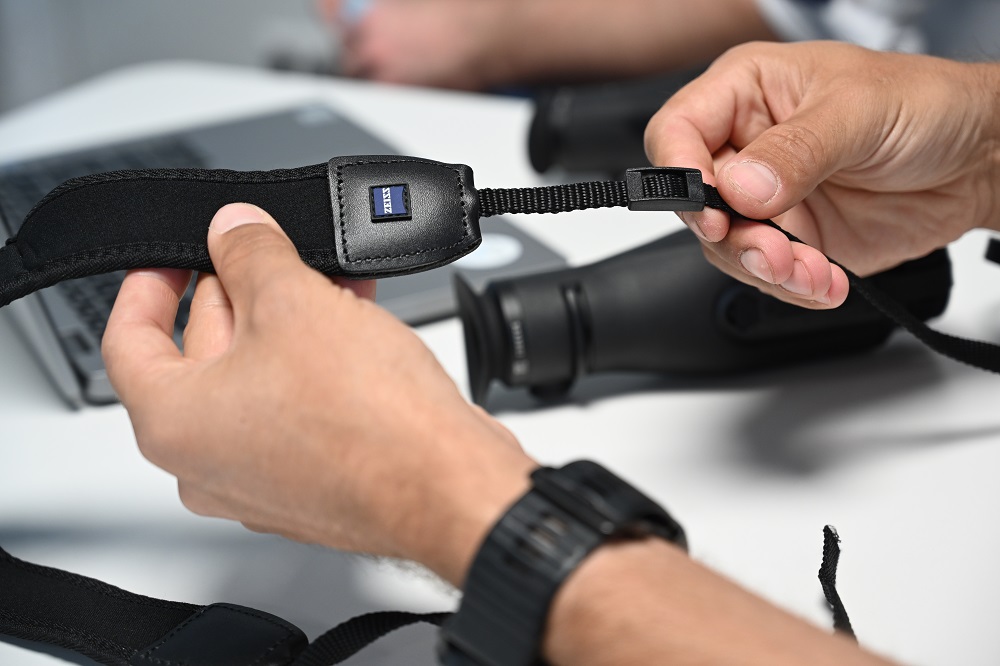 It goes without saying that the image quality plays just as big a role. That's why ensuring that the lens, sensor, image processing, and display are all designed to work together perfectly was one of our top priorities. This results in a detailed and high-contrast image that allows the hunter to accurately identify even the smallest details.
In addition, all of the DTI devices have a clear, easy-to-read, and intuitive menu. The devices can also be continuously enhanced via software updates. For this purpose, we speak with retailers and hunters often to ensure that their feedback is effectively incorporated into any new updates. For example, we incorporated feedback from our customers in our latest update. Hunters can now completely turn off the light from the LED display to further enhance their camouflage, if necessary."
We developed the new DTI 3/25 specifically for hunters who need a large field of view at short distances. It is ideal for use in the forest or at bait sites. This means that constantly panning from left to right and back again to get a good view of an area at short range is now a thing of the past."
You've been a hunter yourself for 14 years, so you're probably one of the most critical users. As a hunter, which of the DTI's technical details is particularly important to you?
Tammo Lüken: "Besides the excellent optical quality, I find the Ergo Control concept thoroughly impressive. Thanks to Ergo Control, you get used to the arrangement of the buttons after only a few minutes, and you immediately know which button has which function. No more guessing or setting the camera down and trying to identify the various controls in the dark. This is particularly important in tense situations where the game is right in front of you. This is where every second counts and you need to avoid any unnecessary movement. This is why the Ergo Control concept is the feature that actually excites me the most about the DTI as a hunter.
Besides, every now and then you want to share exciting moments during the hunt with others. That's why I regularly enjoy sharing my hunting experiences, photos, and videos with friends and fellow hunters directly from my thermal imaging camera via the ZEISS Hunting App."
In the next part of our series, we will take a look at the technical implementation of the ZEISS thermal imaging camera and the role that System Engineering played in this process.