Bacteria can form multicellular communities which are held together by a self-produced extracellular matrix. These communities are called biofilms. A growing body of evidence establishes biofilm infection as a major cause of delayed wound healing or non-healing chronic wounds. Staphylococcus aureus is a predominant cause of persistent infections in chronic wounds and some members of the Staphylococcus genus are efficient in biofilm formation. However, it is unclear how biofilms interfere with wound healing.
Dr. Sen's publication in Annals of Surgery used automated whole slide imaging to link biofilm properties of bacterial infection to specific pathogenic mechanisms in wound healing. We spoke with Dr. Nandini Ghosh, a recent post-doctoral fellow in Dr. Sen's lab, and Dr. Shomita Steiner, Associate Director of Laboratory Operations, who are contributing authors on the paper, about this work.
Tell us about your findings.
We are interested in understanding the mechanisms underlying biofilm infection in wound healing. This led to our development of a preclinical, porcine biofilm infection wound model. In this work, we utilized this wound model with bacterial strains with biofilm-forming abilities in order to better understand biofilm-dependent mechanisms of action in healing wounds.
We found biofilm-induced degradation of cutaneous collagen, specifically, collagen 1 in granulation tissue – the tissue that forms on the surface of a wound during the healing process. This collagen deficiency compromised wound healing. Collagen 1 is a major structural protein of the extracellular matrix (ECM), and, in wounds, causes poor tensile strength in the repaired skin. Tensile strength of the biofilm infected skin was compromised, supporting the notion that healed wounds with a history of biofilm infection are likely to recur.
How did whole slide imaging support your research?
Whole slide imaging was critical to visualize biofilm-induced changes in the cutaneous burn wound tissue.
We used ZEISS Axioscan to image burned wound tissue sections with brightfield microscopy to assess various aspects of the biofilm infected wound tissue sections; this helped to visualize the wound tissue architecture post infection. See images 1-2 below.
Image 1: Hematoxylin and eosin-stained whole mount cross sections of infected porcine burn wounds showing re-epithelialization. Image 2: Masson's trichrome staining of whole mount cross sections of infected porcine burn wounds. Staining results in blue-black nuclei, blue collagen, and light pink/red cytoplasm. Epidermal cells appear reddish. Images collected with ZEISS Axioscan digital slide scanner.
We also used fluorescence microscopy to investigate specific proteins that were assessed in the wound skin tissue. These include collagen 1, smooth muscle actin, and tight junction proteins. See images 3-5 below.
Image 3: Biofilm infected porcine burn wound stained for collagen (green) and nuclei (DAPI/blue). Image 4: Biofilm infected porcine burn wound stained for smooth muscle actin (red) and nuclei (DAPI/blue). Image 5: Biofilm infected porcine burn wound stained for tight junctions (green) and nuclei (DAPI/blue). Images collected with ZEISS Axioscan digital slide scanner.
Whole slide imaging allowed us to easily image the entire tissue section and analyze specific regions of the wound. We were able to analyze the collagen fibers of the wounded tissue, which pointed towards our finding of deficient granulation tissue formation in the infected wounds. Our finding of deficient collagen in the repaired skin as a direct consequence of biofilm infection was very interesting.
Where will this work go next?
Our focus moving forward is to apply the knowledge we have gained to improve diagnosis and management of infected patient wounds.
To that end, our studies laid the foundation for ongoing patient-based studies funded by the National Institutes of Health (NIH) – Diabetic Foot Consortium (DFC). We identified a biomarker for wound recurrence that is currently being evaluated by ongoing DFC studies.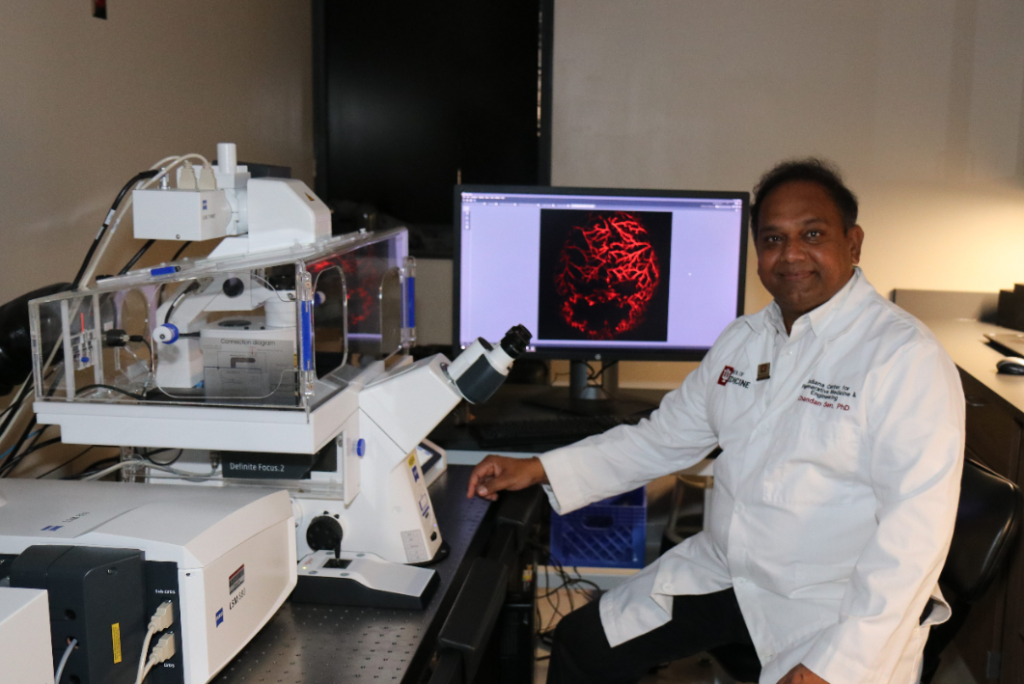 Read next
Visits on this Page:1037