University of Jena and ZEISS publish microscopy booklet for students and prospective teachers
Together with the Friedrich Schiller University Jena, Germany, ZEISS has put together a microscopy manual for students and (future) teachers. The booklet contains practical experiments for education in biology. The English version is now available free of charge and can be downloaded here.
The co-initiator is Prof. Uwe Hossfeld, who has been advocating the teaching concept of practice-oriented research teaching and learning in biology for years.
Microscopy is an essential skill that biology teachers should master. In addition, students cannot only explore a whole new world in microscopy, but also train their skills and learn to deal with biological problems in a different way.

The fact that microscopy only appears as a peripheral area in the Thuringian curricula is a pity, especially with regard to the location. Precisely because we have ZEISS, one of the leading manufacturers of microscope systems here in Jena, it only makes sense to work together and update the current state of the art work with new findings from science and education to unite.

Prof. Uwe Hossfeld, University of Jena
The manual is suitable for beginners and specialists alike. A new element is the integration of modern technologies such as smartphone apps. This allows images from the integrated microscope camera to be transferred wirelessly to the display of a mobile phone and further processed there.
Download the free guide "Microscopy for Biology Education. Practical Experiments for Education in Biology"
More information on the ZEISS Digital Classroom
Read Next
Interactive techniques for classroom experiments and rehearsals may upgrade your university
Microscopy is an essential part of the life and earth sciences at universities. Students use microscopes to gain deeper insight into preparing and examining human, animal or plant cells. For this, they need various microscopy techniques and software for image acquisition and documentation in their lectures. And this is where the Digital Classroom comes into play: connected ZEISS microscopes, the ZEISS imaging software Labscope and digital equipment such as tablets enable an interactive approach to learning and create a motivating and engaging atmosphere for students. They are also inspired by the possibility of working with the tools they use in their everyday lives at university.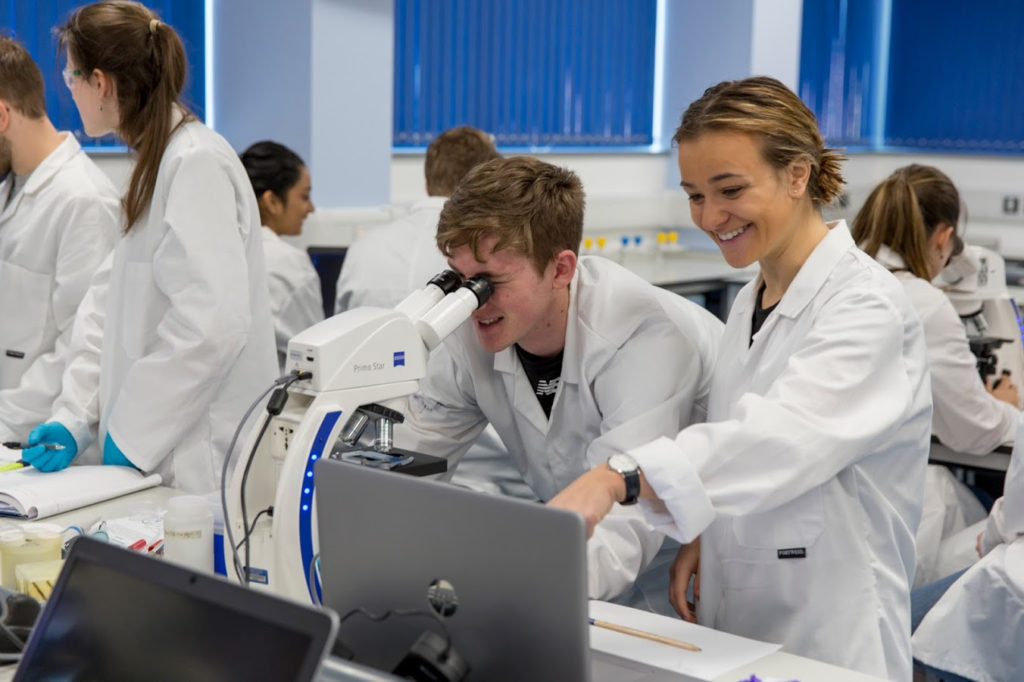 Dynamic learning and teaching
Teachers can walk through the classroom and give real-time feedback while students can share what they are looking at with their classmates and explore their samples together. While the microscopic image is shared via WiFi or projected on a large screen, findings can be jointly discussed. Furthermore, teachers get the chance to point their students toward tiny structures and interesting details they might not yet have seen using the Pointer function in ZEISS Labscope.
Improving the quality of teaching
The interactive classroom offers me and the university a chance of giving a good educational experience to our students, e.g. we can project an image the student is seeing onto a screen. That way everyone can see this microscopic image. On the other hand I can constantly see what the students are seeing on my tablet. This allows me to help them even more.

Dr. Mark Ramsdale, the Director of Education at the Department of Biosciences at the University of Exeter, UK
Universities depend on student fees and funding – both being increasingly related to excellence in education, student's choices and rankings. Offering information is not enough anymore – universities need to offer a vision how to engage, involve and reach students. "Both teaching and learning are much more fun in this environment. And when learning is fun, our students get better results and that's what our university wants", says Ramsey.
Gain more insights into Digital Classroom learning at the University of Exeter:
More information on the ZEISS Digital Classroom
More information on ZEISS Labscope
Read Next
School classes analyze water samples with ZEISS microscopes
A recently equipped digital classroom at the IGA campus in Berlin supports students in environmental education. With the IGA campus and the newly built environmental education centre, the IGA is focusing on encouraging the learning through play of children and young people and allowing people of all ages to experience nature in an active way.
Analysing water quality
A laboratory with 28 networked ZEISS Primo Star and Stemi 305 microscopes, as well as accessories such as cameras, enables interactive learning. From a raft on the Wuhleteich, a small pond nearby, school classes take water samples, carry out initial experiments there and then analyse the water samples in the new environmental education center. In the digital classroom, students determine the water quality and learn about the water flora and fauna. The live images of the connected microscopes can be transferred to the main display directly on an iPad, iPhone or via a projector to discuss in the group.
Photo: Thomas Uhlemann

Photo: Thomas Uhlemann
The IGA campus and the environmental education centre
The IGA campus is designed to be a place for learning, encountering and experimenting within the International Garden Exhibition 2017 (IGA) – a festival celebrating international garden design and green lifestyles in Berlin. Primarily conceived for teenagers and children, the IGA-classroom strives to integrate educational selections on urban gardening, development education, arts and media, and professional orientation. As a model location, the IGA campus lays the foundations for lasting environmental education in the district. In the 186 days of the international horticultural exhibition, more than 2,500 events invite guests to get actively involved, and discover and try out new things. "With the IGA campus and the environmental education centre, the international garden exhibition is a perfect place for green learning in Berlin, which will continue beyond the IGA," says IGA Managing Director Katharina Lohmann.
More information about the Digital Classroom from ZEISS
More information about the IGA campus
Read Next
ZEISS at The Big Bang Fair 2017
For the first time ever, ZEISS attended the UK Big Bang Young Scientists & Engineers Fair at Birmingham NEC. This is the largest celebration of science, technology, engineering and maths (STEM) for young people in the UK, attracting up to 22,000 visitors each day and even coverage on the BBC. Watch the highlights video to catch up on all the action.
From robotics and drones to engineering for theme parks – the Big Bang Fair had it all. The event aimed to show young people the exciting opportunities available within STEM, by bringing classroom learning to life. ZEISS did exactly that by offering a fully-interactive showcase of the Digital Classroom solution, featuring nine digital microscopes each connected to an iPad and large screens.
With everything from live bugs, dissections of insects and iPhone circuit boards under the microscopes, students, parents and teachers alike were "wowed" by the interactive technology that ZEISS had to offer. The large screens drew thousands of aspiring scientists to the stand, each approaching the digital classroom with interest and intrigue. One teacher commented: "It's equipment like this which is a long term investment in creating an active classroom for years to come" and one young student commented: "I like that my friends can see what I'm looking at, we can all talk about it and share what we think".
The show was a fantastic experience for all involved at ZEISS, and it was extremely rewarding to see the children get so excited about science under a microscope.

Tom Quick from ZEISS UK
Read Next
ZEISS supports Illinois I-STEM educational outreach event with classroom microscopes
[Omics are] absolutely fundamental to every single aspect of our daily lives. Everything from energy and the environment, to health care, and even space exploration are all fully dependent on the application of Omics sciences. Every future health care decision that these students will make, every future decision on food security and grocery shopping, every decision as a citizen scientist when they go to the polls and vote on climate change policies… everything depends on integrated sciences, and the Omics sciences are at the heart of all of this.

Bruce Fouke, Professor, University of Illinois
So one purpose of the event was to expose the students to STEM via topics related to DNA and Health, plus Omics research at Illinois. The idea was that as students did fun, hands-on activities about DNA (building DNA models), DNA extraction (extracting DNA from strawberries), DNA to RNA to protein (making paper models of nitrogen bases), science equipment (making a centrifuge), emergence of life and DNA and mutations (using microscopes), cancer (cause, prevention, and treatment), and drug building (building models of molecules), they would not only learn about the subject matter, but begin to feel comfortable with the idea that they too can do science.
Another purpose of the event? To expose the students, many from under-served populations, to the idea that like many of the Illinois rsearchers at the event, they too could have a career in STEM. For example, during his presentation, Bruce Fouke, an Illinois professor in both Geology and Microbiology, strongly advocated the notion that students are scholar-athletes, and that they should prepare for careers beyond sports.
In our modern-day, globally-connected, sports-crazed society, so often the approach is to say that a student is a great athlete. Then, as an afterthought, it might be mentioned in passing that this same student is in school and that they should also achieve good grades. However, all emphasis and recognition is placed on the "athlete" aspect, and minimal-to-no emphasis is placed on the "scholar" aspect…Both academics and sports endeavors are vitally important, and neither can truly exist without the other….but to constantly short change and deemphasize the "scholar" is a tragic disservice to all students, which ends up threatening their future as well as that of society as a whole.

Bruce Fouke, Professor, University of Illinois
However, the meat of Fouke's message was an exhortation to students that their time as an athlete would most likely be transient, and that they needed to prepare for a career for the rest of their lives.