In Jena production, components are mounted and whole light microscope systems are integrated. What has started as a small workshop for precision mechanics and optics in the middle of the nineteenth century, now has become a solid production facility. Today, over 120 employees manage this complexity and ensure the fast and precise production of our microscopes.
A short glance back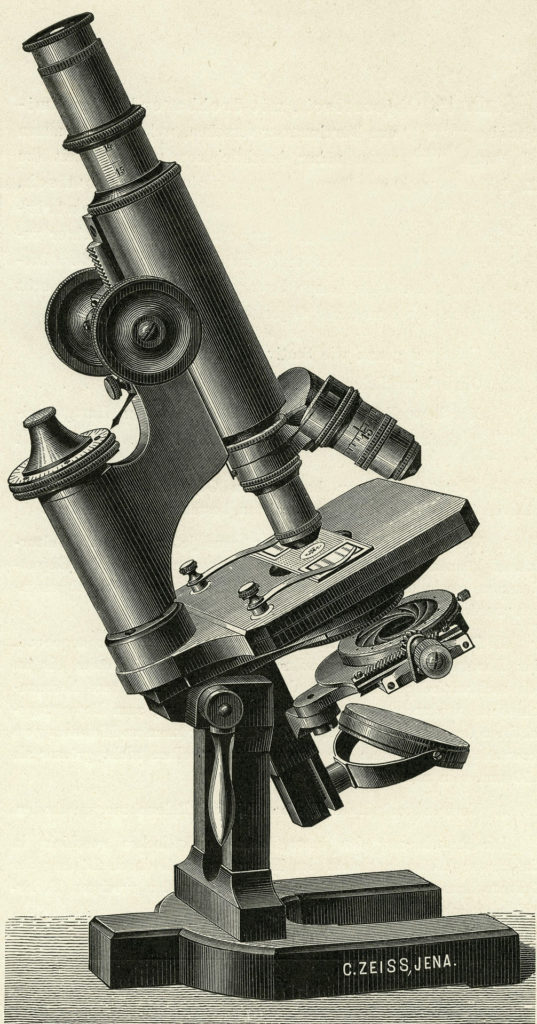 ZEISS has been producing high-precision microscopes since the middle of the 19th century. From 1857 onwards, the simple models were followed by compound microscopes (image: compound microscope from Carl Zeiss, Stand I, from 1891).
Thanks to the work of scientist Ernst Abbe, microscopes have been based on theoretical calculations since 1872. This enabled the production of large numbers of microscopes to the same exceptional quality. The development of microscopes kept advancing, resulting in new models with new technologies.
Fighting for nanometers
Today, ZEISS microscopes like Axio Imager and Axio Observer, as well as high-end systems like Lightsheet, Lattice Lightsheet, LSMs and the Axioscan slide scanner leave production in Jena to be shipped to research institutes worldwide.
There are two main areas in production: assembly and system integration.
Made to order
80% of the production workers only start working with the order in hand. Every system is tailored to the requirements of the customer.
Julietta Voelkel
Precision mechanic, ZEISS AXIO OBSERVER PRODUCTION LINE, JENA
"Zeissians are very meticulous. Customers have certain expectations when they buy a ZEISS system. It is important for us to meet these – and that is also my personal goal."
Did you know that?
… every production employee has its own specification? To do his part of the work he needs a specific certificate to be renewed every three to six months.
… ZEISS ships microscope systems and components worldwide between production facilities in reusable transport boxes?
… it takes up to 32 days to put a microscope system into operation?
Discover more:
Dive deeper into the history of ZEISS here
Learn about ZEISS Microscopy here