Discover the basics of SEM and the unique advantages of ZEISS Gemini electron optics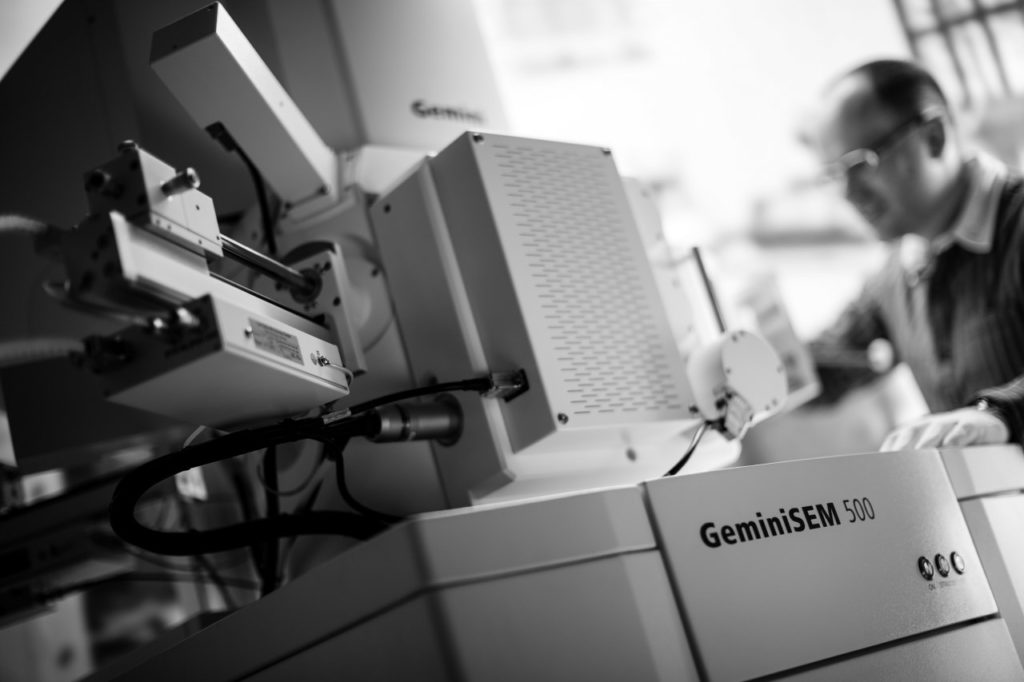 This article highlights the history and principle of scanning electron microscopy as well as current applications of ZEISS Gemini technology for high-end nanoimaging at low voltages and advanced materials analysis. Download the knowledge posters and White Papers as free pdf files and contact us for further questions via our website!
A Small World of Huge Possibilities
Antonie van Leeuwenhoek created the first light microscope in the mid-1600's. About 200 years later, Ernst Abbe, working with German engineer and entrepreneur Carl Zeiss, published the observation that the resolution of a microscope could be defined as the wavelength of the light used, divided by twice the numerical aperture. In 1931, Ernst Ruska built the first transmission electron microscope. Four years later, Max Knoll discovered a means to sweep an electron beam over the surface of a sample, creating the first scanning electron microscope (SEM) images.
It has been 50 years since the first commercial scanning electron microscope (SEM) was launched by the Cambridge Instrument Company, a UK-based predecessor company of ZEISS Microscopy. SEMs create surface images of bulk material by scanning an electron beam over the sample, recording the resulting echoes and electrical interactions point by point. Resolution in the nanometer range is routine. SEMs use electromagnetic "lenses" to focus an electron beam to a sharp point and raster-scan across the sample. They create images by recording the interactions of the electron beam with the sample surface, which could be a ceramic material, metal, or biological specimen. These interactions can take many forms, and SEM users can install a wide range of spezialized detectors around the sample chamber to explore and analyze them.
Discover how an SEM works and read more about the historic background of the technology development of SEMs with a poster and interactive website, published by Science/AAAS and ZEISS.
ZEISS Gemini optics: High resolution at low voltages on real world samples
Download the poster with a cross-section of the Gemini column and application images taken with a variety of detectors.
Novel Optical Design of Field Emission SEMs
High resolution imaging of sensitive samples can be a challenge. A novel optical design in ZEISS GeminiSEM 500 enables easy handling of sensitive samples. Imaging at low acceleration voltages – between 1 kV and 5 kV, or even lower than 1 kV – has become the golden standard in field emission scanning electron microscopy recently. In order to achieve excellent images from sensitive samples it is mandatory to avoid beam damage and to balance the SE yield and beam current for charge neutrality.