Since many years Free and Open Source Software (FOSS) is a key methodology when it comes to innovative software development and has enabled software ecosystems to thrive. At ZEISS, FOSS is omnipresent. No matter if it is used as enabler within our daily workflows or as essential ingredient to our high-technology, software-based product portfolio.
Voluntary work and public sharing
The underlying public and collaborative software engineering approach allows solving even the most complex problems and has brought up amazing base technologies, transformed entire ecosystems and even explored Mars. When describing the specific characteristics of FOSS, a lot of emphasis is put on the swarm-based approach, in which a significant number of individuals work together in a collaborative approach to develop software. Yet, a lot of FOSS projects fuelling today's infrastructure are maintained by few individuals. Many of those write code for fun, on voluntary basis, aside of their day job. Their main motivation is to solve a specific problem they are having. And they are fond of the principles of Open Source and Free Software. As those original creators expect others to benefit from their work as well, they are publicly sharing it under a FOSS license.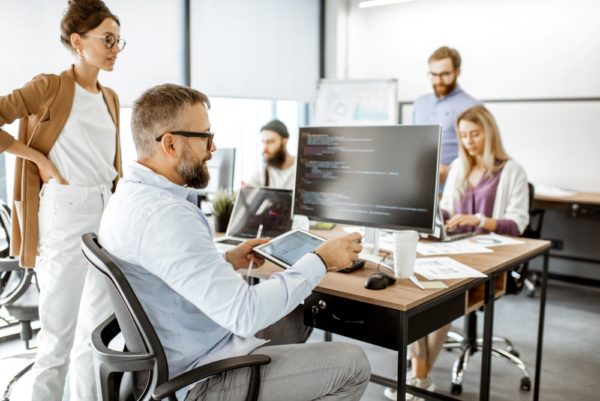 Dependency on voluntary software development as challenge
The downside of such "hobbyist" software developers is that – although they might be well qualified – their ability to assign continuous and sufficient time and priority to the project is limited.
In the worst case, due to a change in priorities and/or interest, their engagement within the project might decrease or even cease completely. For the project and its surrounding community this might be an unfortunate loss. For any company like ZEISS, who is relying on the project, this is a risk with potential impact on our daily workflows and/or product line(s).
ZEISS supports community engagement of their employees
With the goal to be an active and sustaining member within the global FOSS community, we have defined a company-wide policy on FOSS engagement. With focus on feasibility, it enables and appreciates the contribution to FOSS by any software engineer at ZEISS. The overall purpose is to facilitate community-based software development by active involvement, contributing our manifold engineering expertise and releasing unique work that could be relevant to more than us.
This also helps in relieving the previously mentioned challenge. If the actual project maintainers are short on time, a ZEISS engineer could be the one to add upon whilst preparing the FOSS component at question for its proper use in one of our products. All FOSS projects published by ZEISS can be found on GitHub: https://github.com/zeiss
Funding our employees' favourite FOSS projects
To complement this, ZEISS has started in 2022 an initiative to fund projects that are particularly relevant to us. With that, project maintainers are supported to continue their valuable work and use the provided money to allocate more time on their important projects. ZEISS Employees across all business units voted for their favourite project(s) in three categories: productivity tool, software library, and FOSS foundation. In the second FOSS Funding round that was concluded this summer, six winners were determined to receive grants totaling 15,000 EUR:
Congratulations to all winner on your awesome projects, which are highly appreciated at ZEISS! Thanks a lot for your precious work and publicly sharing it!
Joining Linux Foundation and Zephyr Project
To further strengthen our ties in collaborative software development, we are happy to announce that the ZEISS group has recently become a proud member of the Linux Foundation and Zephyr Project.
The Linux Foundation is not only home to Linux and its surrounding ecosystem, but also maintains a wide range of initiatives that add value far beyond pure code development. To give a few examples: SPDX as the common standard to represent software composition in form of software bill of materials (SBOM) or the TODO Group as best practice exchange to succeed with Open Source governance in the enterprise.
The Zepyhr Project nurtures a modern and innovative real-time operating system, that may see more than one appearance in ZEISS's future product lines.
Exciting times ahead, so stay tuned for our next round of FOSS funding or even better join our team ZEISS to forge FOSS on the mission to bring our innovative product portfolio to the next level!
This post was written by: