While more and more start-ups, mid-sized companies and large corporations are using digitalisation and networking to expand their business, and are developing entirely new business models, the global demand for standardisation and implementation expertise is growing. For example, real-life technologies have long been evolving from phrases that previously didn't hold a lot of meaning, like "Big Data", "Internet of Things (IoT)" and "Industry 4.0"; such technologies are driving digital transformation while helping companies to increase their productivity, optimise their supply chains and, ultimately, increase their gross profit margins. They primarily benefit from reusable services from hyperscalers such as Amazon, Microsoft, Google or IBM, but are themselves often unable to implement tailor-made solutions using their own staff. ZEISS Digital Innovation (ZDI) assists and supports its customers in their digital transformation as both a partner and development service provider.
Cloud solutions have long been clunky – especially in the industrial environment. This was due to widespread scepticism regarding data, IT and system security, as well as development and operating costs. In addition, connecting and upgrading a large number of heterogeneous existing systems required a great deal of imagination. For the most part, these basic questions have now been resolved and cloud providers are using specific IoT services to recruit new customers from the manufacturing industry.
In order to illustrate the typical opportunities and challenges borne by IoT environments in the most realistic way possible, an interdisciplinary ZDI team – consisting of competent experts from the areas of business analysis, software architecture, front-end and back-end development, DevOps engineering, test management and test automation – will use a proven agile process to develop a demonstrator that can be used at a later date to check the feasibility of customer-specific requirements.
A networked production environment is simulated in the demonstrator using a fischertechnik Learning Factory and is controlled using a cloud application developed by us. With its various sensors, kinematics, extraction technology and, in particular, a Siemens S7 control unit, the learning factory contains many of the typical elements that are also used in real industrial systems. Established standards such as OPC UA and MQTT are used to link the devices to an integrated IoT gateway, which in turn supplies the collected data via a standard interface to the cloud services that have been optimised for this purpose. Conversely, the gateway also allows controlled access to the production facilities from outside of the factory infrastructure while taking the strict IT and system security requirements into account.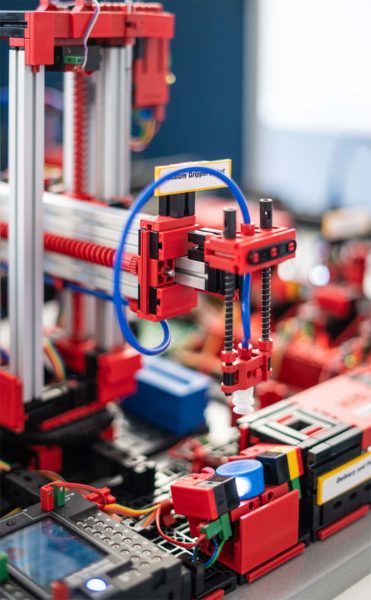 Establishing and securing connectivity for employees across all ZDI locations after commissioning has occurred is on one hand an organisational requirement, and on the other, already a core requirement for any practical IoT solution with profound effects for the overall architecture. In terms of technology, the team will initially focus on cloud services offered by Microsoft (Azure) and Amazon (AWS), contributing extensive experiences from challenging customer projects in the IoT environment. Furthermore, the focus remains on architecture and technology reviews as well as the implementation of the initial monitoring use cases. Using this as a foundation, more complex use cases for cycle time optimisation, machine efficiency, quality assurance or tracing (track and trace) are in the planning phase.
ZDI is also especially well positioned in the testing services field. Unlike in extremely software-heavy industries such as logistics or the financial sector, however, test managers for numerous production-related use cases were repeatedly confronted with the question of how hardware, software and, in particular, their interaction at the control level can be tested in full and automatically, without requiring valuable machine and system time. In hyper-complex production environments, such as those that ZEISS has come across in the semiconductor and automotive industries, digital twins, which are widely used otherwise, only provide a limited degree of mitigation as relationships are difficult to model and, occasionally, fully unknown influencing factors are involved. This makes it all the more important to design a suitable testing environment that can be used to narrow down errors, reproduce them and eliminate them in the most minimally invasive way possible.
We will use this blog to regularly report on the project's progress and share our experiences.
---
This post was written by: