IT consulting has always been an interesting business area. The advantage for the client is that they can schedule the workforce flexibly according to their technical know-how and capacities. Consultants have the unique opportunity to gain a lot of professional experience in a very short time because the project work allows us to get to know and actively shape a wide variety of client scenarios and work environments. We track new technologies and help our clients integrate them into their processes. Current issues we are dealing with in our software and quality assurance projects include Java, .NET/C#, cloud, web, mobile, usability, and agile methods.
Until 2010, working at Saxonia meant almost exclusively spending most of the week in the field, at the client's premises somewhere in Germany, either alone or with colleagues. Unless you were fortunate enough to work on a project somewhere near your home, this was usually detrimental for your private life. At the latest, by the time you wanted to start a family, you had to ask yourself what would become of your career.
This changed at the end of 2010. Saxonia started its first project with a distributed team. With large screens and cameras, we started the experiment: Even though we were in different rooms in different locations, we wanted to create the impression of being in the same office and working together on an agile project team. It was a rather bumpy ride at first, when we were still using an analog task board, and the connection kept breaking down. Furthermore, our understanding of what agile truly means developed slowly back then.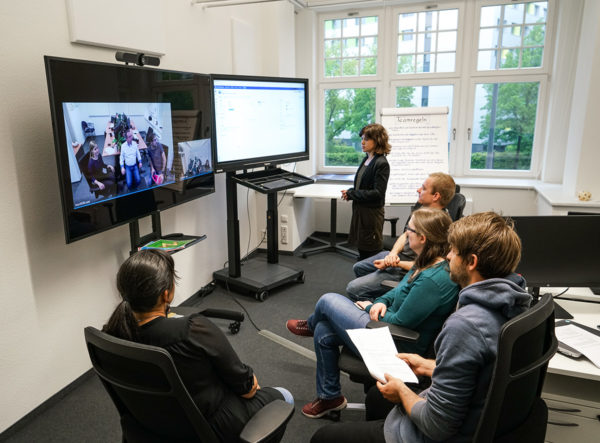 But our distributed agile collaboration according to the scrum methodology improved steadily, with ever-improving technical set-ups, with our digital task board, and last but not least, with our integrated concept for distributed collaboration, "ETEO" ("Ein Team Ein Office" – One Team One Office). IT consulting at Saxonia evolved, away from individual assignments and towards true project and team work with our colleagues.
Today, many of our daily project routines and travel activities have changed. At present, 84% of the Saxonians work at the office at their home location.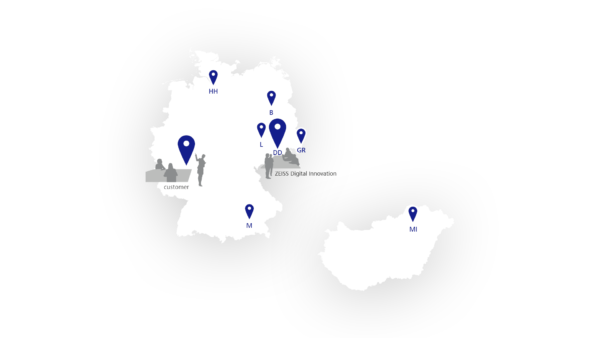 Most of us are now organized in agile scrum teams, working as a distributed team from Saxonia's locations with the client and our colleagues.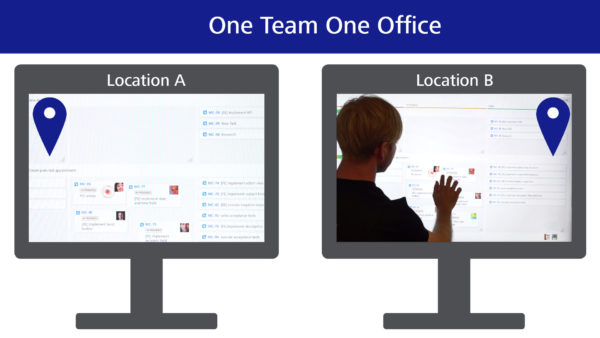 In everyday life, this means that we work in offices that are connected to another location using state-of-the-art technology, allowing us to see each other whenever we want as if we were in the same room. Similarly, for our meetings, we stand or sit in front of the camera as a group. One-on-one meetings, e.g. for pair programming sessions, can be done at our own computer with a headset and split screens, enabling us to work comfortably together on the same task as if we were really sitting next to each other. For creative activities during the sprint or the retrospectives, we use digital whiteboards or notice boards that allow us to work together on the same surface.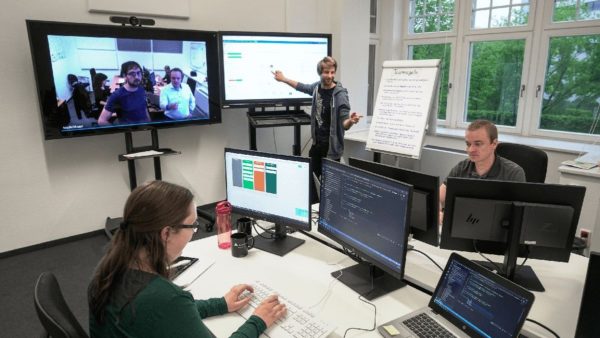 For the current project, we only travel to the client or one of the other locations, e.g. for the changeover between sprints, every 2 or 3 weeks, and sometimes even less frequently. IT consultants often used to be "lone wolves" working at the client's premises. Today, they travel together with their team members.
The focus of our continuous improvement has not only been on distribution. In addition to the project work in teams, we have taken another step since 2010: Collaboration and leadership have been rethought on the management level, too. This has continuously evolved into our agile strategy process that we consistently apply. This way, our entire company has gradually become more and more agile. Every one of us can contribute to this process by participating in so-called "Strategic Initiatives". Today, the strategy stand-up (similar to the daily stand-up in scrum) takes place every other week after our joint "Pizza Friday", distributed over all our locations using ETEO boards and video-conferencing. On these occasions, everyone can catch up on the current status of the Strategic Initiatives.